Tom Brady and an Iconic Head Coach in a Package Deal? Ex-NFL GM Backs the Possibility Over One Aspect
Published 11/23/2022, 9:15 AM EST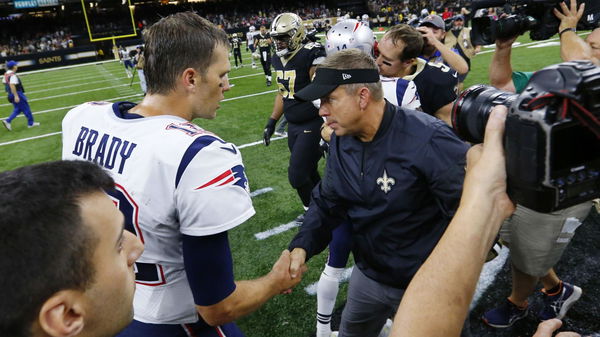 Tom Brady was the core of the hype during the offseason. But it rose to an all-time high when the QB and Sean Payton announced their retirement. While Brady revoked his decision and returned to the field, Payton has been adhering to it and taken over a new role. But an ex-NFL GM backed the possibility of the two icons in a package deal.
During Thursday's edition of ESPN's Get Up, ex-NFL GM Mike Tannenbaum had a fiery theory. He delivered a wild yet plausible theory involving Tom Brady and Sean Payton in a package deal in the 2023 offseason. The former GM pointed out an interesting aspect that opens the possibility.
ADVERTISEMENT
Article continues below this ad
Mike Tannenbaum mentioned, "Let's remember this, Greeny: Sean Payton and Tom Brady have the same agent. They could be a package deal. There are a number of teams out there – Carolina, New Orleans, maybe Las Vegas, Arizona – that could be looking for possibly a head coach and a quarterback."
The former GM continued it remains a fascinating scenario. If Brady stays and goes somewhere else, it won't be for a restructuring. He would go with someone who knows how and where to coach offense. Moreover, Sean Payton would be a perfect match.
During the offseason, Tom Brady and Sean Payton became the subject of media fame after reports linked them with the Miami Dolphins. But that rumor got taken down after a probe found the franchise violating the protocol after tampering. It led to the franchise owner Stephen Ross facing a suspension and a $1.5 Million fine.
ADVERTISEMENT
Article continues below this ad
Tom Brady reveals insights he would undertake as an analyst
As a veteran, TB12 would have a glorious vision for the game. After devoting his life to football for the past 22+ years, Tom Brady could step into a new role as an analyst. The QB's broadcasting career arose as a topic during the latest episode of Let's Go! Podcast. He discussed this with current TNT analyst Charles Barkley about his future role.
ADVERTISEMENT
Article continues below this ad
Tom Brady stated he enjoys the chance to become more critical of many other players in public. The QB has to pick his patches inside the locker room as a player. They have rage and frustration as a player, and he has never expressed them through the mainstream media. TB12 would turn to the players, coach, or whoever could genuinely resolve the issue.
Watch This Story: Tom Brady Went to The Same High School As This Controversial MLB Hall of Famer Who Was Also A 14x All-Star
Edited By: Gurjyot Singh Dadial