Tom Brady Had a 'Tell' Worth Millions of Dollars in New England Patriot Days Which This Giants DE Used to Win Over an Undefeated Dynastic Beast
Published 08/27/2022, 7:00 AM EDT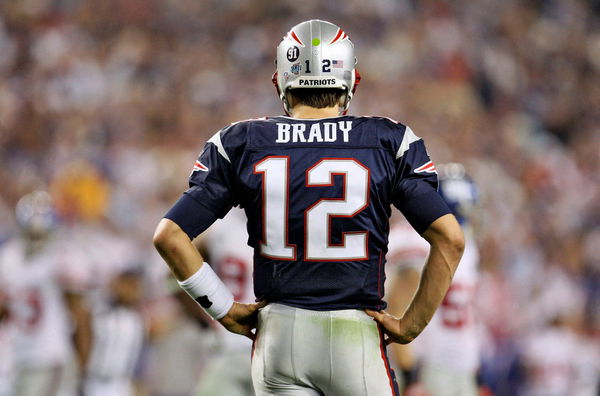 The year 2007 was like a glorious time for the New England Patriots. Tom Brady and his crew were running undefeated and were the true Head of The Table who ran the yard. However, the Giants became the spike strip on their road to Super Bowl after they beat the unbeaten. It all happened due to sharp observation, which a former Giants DE used to stop the run.
Ex-Giants athlete Osi Umenyiora sat with Jake Humphrey on the 'High Performance' Podcast and touched on some topics. The DE revived the Super Bowl XLII. He revealed how he and his defense got the tell on Tom Brady. Umenyiora divulged intelligence worth millions of dollars, and one should take notes.
ADVERTISEMENT
Article continues below this ad
The Ex-Giants DE mentioned, "We were playing against the New England Patriots. Tom Brady – greatest quarterback ever, supposedly… And they were undefeated. They hadn't lost a game that year. They were on their way to being the greatest football team in history. But as I was watching the tape, this was… because you have two weeks leading up to the game. As I was watching the tape, I noticed that Tom Brady — he would come up to the line of scrimmage, and he would say, 'Hot! Hot!', which is telling the center to snap him the ball."
Osi Umenyiora analyzed it for a week before returning to view all the games. Brady performed the same approach, but no one noticed. The DE then gathered the entire defensive position and said, 'Listen, this is what this man is doing.'
Eli Manning and his party pulled up the biggest upset in NFL history. The Giants prevailed over the undefeated Patriots, 17–14.
Von Miller gives pointers to take down Tom Brady in the game
ADVERTISEMENT
Article continues below this ad
Von Miller is also not a stranger to Tom Brady and his playing tactics. Both of them faced off in their time with the Broncos and Patriots, respectively. In a write-up shared in Players Tribune, OLB Miller gave some tips on how to take the NFL GOAT down and become like kryptonite to him.
ADVERTISEMENT
Article continues below this ad
DE Miller claimed Brady dislikes getting hit. None of the quarterbacks do. To get him, the team needs two — not just one, but two — legitimate pass-rushing weapons on the perimeter. It must be a two-person blitz. The offense can shift, slide, double-team, bump, and knock him off the play if it is only one man. Both the pointers are striking aspects. But will they work now? It is subject to witness.
Watch This Story: Patrick Mahomes' Mother Offers An Insight Into Raising A Future Hall of Famer, An NFL MVP, And Super Bowl Champion, And Then A Notorious TikTok Star
Edited By: Gurjyot Singh Dadial