Tom Brady Hungry as Ever to Win More After Record Breaking Night Against the Detroit Lions
Published 12/27/2020, 9:19 AM EST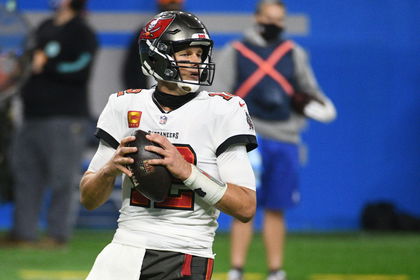 ---
---
Records were broken on Saturday. Multiple records. The Tampa Bay Buccaneers' 47-7 drubbing of the Detroit Lions secured the franchise its first playoff appearance in 13 years.
ADVERTISEMENT
Article continues below this ad
Their last playoff outing came back in 2007. Along the way, one particular player set a few personal bests as well. That player being none other than the veteran quarterback Tom Brady. 
The Buccaneers had their most dominant first half in franchise history. Going up 34-0, Brady posted 348 passing yards, his highest ever in the opening half of a game.
ADVERTISEMENT
Article continues below this ad
The former Patriots quarterback also registered 4 touchdowns before sitting out the second half. Reflecting on his record-setting night, Brady addressed the challenges the Buccaneers will face going forward. 
Job half done for Tom Brady & Co. 
Throughout his illustrious 21 year career, Tom Brady has maintained that it is his love for the sport, that drives him forward. Something which he reiterated while talking to the media on Saturday.
"I love playing and I never want to let my teammates down. It's been that way for 21 years of my career. I just try to show them and do the best I can do every week and every day and realize that the competition isn't only on Sunday, but every day of the week," Brady said. 
MORE- WATCH: Tom Brady and Rob Gronkowski Connect for Epic Buccaneers Touchdown
Brady also acknowledged that the team needs to find a bit more consistency heading into the Playoffs. 
"I know at different times we haven't played the way that we're capable of playing, but when we do play (the way) we're capable of playing, we're pretty tough to beat.
"So we have got to figure out how to do it more consistently in the best possible way… So I'm going to be excited to get out there and play and see what we can accomplish," he added.
Brady now part of an exclusive club
The Saturday night game against the Lions also marked another momentous occasion. The game was Brady's 300th regular-season game, a stat that highlights the QB's incredible longevity. 
ADVERTISEMENT
Article continues below this ad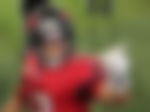 Only 11 other players have achieved the feat in the league's long and illustrious history. Among them is former Packer Bret Favre, who is also the only other QB apart from Brady to belong to the 300 club.
As the seasons roll on, the records keep tumbling for Brady. And though in the twilight years of his career, the 43-year-old looks to be in no mood of slowing down just yet.  
ADVERTISEMENT
Article continues below this ad