'Tom Brady Is An Alien' – Viral TikTok Showcases Insane Longevity Of His Legendary NFL Career
Published 10/06/2021, 7:45 AM EDT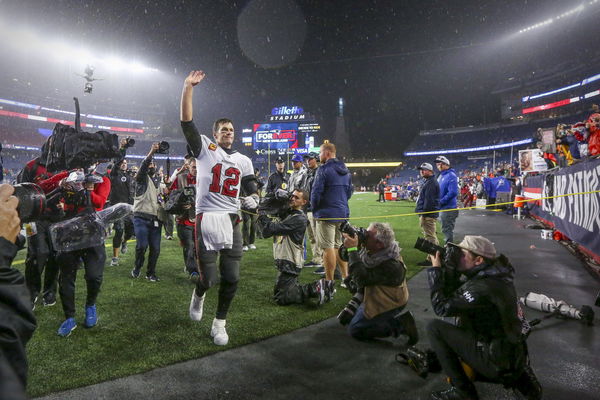 ---
---
Every time someone looks at the current roster of athletes in the NFL, a few names stand out. While imposing figures like Rob Gronkowski, Aaron Donald, and more stand out, many instantly recognize the legends. One such legend has played in the NFL for over twenty years. Tom Brady, arguably the greatest, is once again the centre of attention after a viral TikTok video.
ADVERTISEMENT
Article continues below this ad
Tom Brady is superhuman
ADVERTISEMENT
Article continues below this ad
At 44, Tom Brady is churning out MVP-worthy performances on a weekly basis. This is thanks to his TB12 workout/lifestyle, but also based off his sheer skill and talent. Many wrote Brady off as just another quarterback when he debuted in 2001, but look at him now. Seven Super Bowls and in possession of a wide range of NFL records; Tom Brady has reached the summit.
After his return to New England, where Tampa Bay Buccaneers beat the Patriots 19-17, a TikTok hailing Brady's longevity went viral. Although there are tons of content like this on social media, TikTok user @who_you_got explored the 2005 Madden ratings, and showed us some crazy stats.
In the video, the user takes us through the top rated players of the NFL in 2005, and where they are now. He starts off with Brady's back-up quarterback in 2005, Kliff Kingsbury. He is currently coaching the only unbeaten team in the 2021 NFL season, Arizona Cardinals. Then, he comes to Rodney Harrison, who is now an NFL analyst on TV.
Perhaps the most startling factoid comes on Asante Samuel's behalf. The former Patriots cornerback was only a one-season player in Madden 2005. However, his son, Asante Samuel Jr is now playing in the NFL, and is a cornerback for the LA Chargers. Other big names that appear are Peyton Manning (retired), Drew Brees (retired), Tony Romo (calling games) and, of course, Keyshawn Johnson.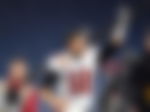 When will Brady retire?
ADVERTISEMENT
Article continues below this ad
The subject of Tom Brady's retirement is going to be a hotly debated topic in NFL circles for a while. And by a while, I mean for quite a while. They way he's moving at 44, no wonder the GOAT himself believes he can play till 50. Plus, playing for a team like Tampa Bay only makes his decision more sensible.
The shocking part isn't the age factor, but the sheer longevity of his career. The only athlete who has a career with a similar to longevity to Tom Brady is Cristiano Ronaldo, and he's eight years younger to the Tampa Bay quarterback. Comparing Ronaldo to Brady is like comparing apples and oranges, but we simply cannot deny how scary it is to think about their careers.
ADVERTISEMENT
Article continues below this ad
With that being said, we can safely predict that Tom Brady will play in the NFL till he nears 50. After that, maybe he'd retire and build an empire for himself. We've seen it happen with Tiger Woods, Michael Jordan and the aforementioned CR7. If there's anyone who can match them, or even top them, it's TB12.