Tom Brady Is Needed by Rob Gronkowski for "One Last Touchdown Pass"
Published 03/17/2023, 10:30 AM EDT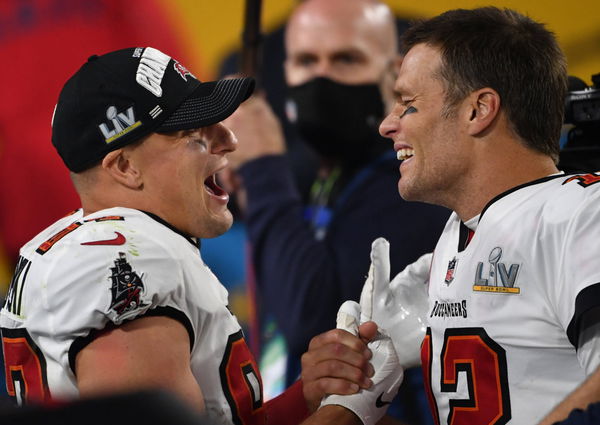 Tom Brady is living life at the moment. The Tampa Bay Buccaneers announced on February 1st that he would be retiring for good. Since then, he has kept a low profile and is spending time with his kids. The recently retired QB1 is hosting a party with the members of his NFT platform. Rob Gronkowski will be in attendance and wants to deliver a fabulous moment with Tom Brady.
The retired quarterback recently hosted his unofficial retirement party he is hosting with his Autograph Family. Tom Brady also invited his close buddy and teammate Rob Gronkowski to the gala, as it would not be a legitimate party without him.
Rob Gronkowski has this one wish
ADVERTISEMENT
Article continues below this ad
Ahead of the social gathering, the former Buccaneers star-TE tweeted about a moment he would love to recreate with the NFL GOAT. Rob Gronkowski tweeted, "What do you say [Tom Brady], one more touchdown pass at the [Autograph] party today for old time's sake?"
The last touchdown pass right would be an unofficial element, just like the retirement party. But it would bring back several memories from Brady's illustrious 23-year career. The privileged members of 'The Huddle' at the retirement gathering would be lucky enough to witness it. Both TB12 and Gronk have given the New England Patriots, and Buccaneers fans a stellar sight with seven Super Bowl wins.
The NFT platform Autograph has had celebrity collaborations with eminent personalities. Derek Jeter, Naomi Osaka, and Tiger Woods are, to name a few. Rob Gronkowski is also a part of the platform and showed up at the party alongside Tom Terrific. They also made the 'one more TD pass' happen at the event.
Tom Brady and company made the one last TD at the unofficial retirement party
ADVERTISEMENT
Article continues below this ad
The members of The Huddle at the unofficial retirement party saw Tom Brady, Rob Gronkowski, and Leonard Fournette making their appearances. The retired QB1 wore an all-black attire with white shoes to complete the look. Additionally, Gronkowski got his wish to have that last touchdown at the event.
ADVERTISEMENT
Article continues below this ad
At the gathering, Gronkowski played center and gave the ball to Brady. He then passed it to RB Fournette, who gave the ball back to the NFL GOAT. The athlete then flung it toward the crowd. While it is unaware if somebody made the catch, the people at the exclusive event were able to witness the one final toss.
Watch This Story: Tom Brady Went to The Same High School As This Controversial MLB Hall of Famer Who Was Also A 14x All-Star
Edited By: Abigail Kevichusa