Tom Brady on Defending His Way Through the Deflategate Controversy: 'I Said What I Had to Say Multiple Times'
Published 12/30/2021, 8:49 AM EST
---
---
Tom Brady recalls his days of an inglorious past for the previous two episodes of 'Man in the Arena'. During his latest episode, he talks about the repercussions he had faced due to the Deflategate controversy. That scandal became one of the most talked-about moments in the life of Brady. A moment that makes people judge the quarterback's most successful career as a scam.
ADVERTISEMENT
Article continues below this ad
Deflategate became the turning point for Tom Brady. Until then, he was a spotless hardworking athlete. The controversy began after the AFC Championship game between the New England Patriots and the Indianapolis Colts. An investigation was carried when it was found that the pigskin used by the Patriots had been deflated. A deflated ball makes it easier to catch and throw the ball.
ADVERTISEMENT
Article continues below this ad
Tom Brady got engulfed in the controversy after a chat between two Patriots' employees surfaced. In it, they mentioned Brady by name while talking about deflating the football. Brady faced a four-game suspension at the start of the 2016 season, and the Patriots were heavily fined.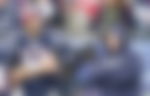 Brady had to prove his innocence following the incident. He was questioned and put to shame a number of times. Many were under the opinion that the quarterback should be banned from the sport. But in Brady's opinion, it was a battle for him since it was majorly dependent on who had power and authority. According to him, what actually started out as an argument became completely different by the end.
Tom Brady on his Deflategate proceedings
Brady further mentions that he was tired of defending himself. Since he has been doing it for a long time but people had their minds made up already. "I said what I had to say multiple times, in front of a lot of different people, in court, in public," Brady said. "I felt I had given them what they needed to make the right decision, but I feel like they had their mind made up."
ADVERTISEMENT
Article continues below this ad
Brady further said of the protracted court proceedings, "I realized I wasn't going to win. It's hard to beat 31 billionaires in court. I thought we gave it a great fight but in the end just dealing with the results of what the New York circuit judge decided. I decided to put that behind me and then move on to the next year."
ADVERTISEMENT
Article continues below this ad
Although it was a nightmare for Brady to deal with the controversy, in the end, he was only suspended for four games. And despite all the judgments passed and claims made, Brady still managed to win a Super Bowl during the 2016 Season. However, the criticism stuck with him forever. So much so that he had to talk about his innocence even in his docuseries.