Tom Brady Once Trolled Tiger Woods For Wearing Atlanta Colors: 'It's the Eagles That I Cringe, Bro. Not the Falcons'
Published 01/15/2022, 9:53 AM EST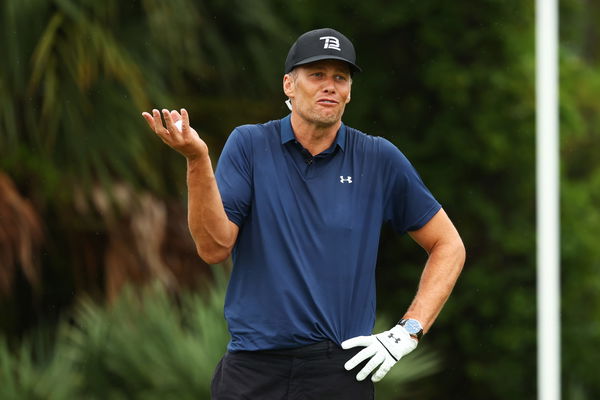 ---
---
In May 2020, Tom Brady took on Tiger Woods in a charity golf tournament. This tournament also featured Peyton Manning and Phil Mickelson. During the tournament, Tiger Woods tried to pull one over Tom Brady. Woods wore a color scheme that represented his favorite football team, the Atlanta Falcons. Brady had a tough time throughout the match, but Tiger Woods wanted to mess with the football player.
ADVERTISEMENT
Article continues below this ad
As a reply to Woods' clothes, Brady said a wild comeback. It was a fun one-liner that got the quarterback win off the course. Sadly, you cannot defeat Tiger Woods in golf. But Brady enjoyed the last laugh. 
ADVERTISEMENT
Article continues below this ad
Tom Brady and Tiger Woods participate in a charity golf match
In 2020, all of these celebrities took part in a golf match. In the match, Tom Brady was paired up with Phil Mickelson and Tiger Woods was with Peyton Manning. The winning amount of the match was $10 million. 
During the start of the match, Brady seemed to struggle a bit. So much so that he was being trolled. The four-time major champion, Brooks Koepka, even set an incentive. He said if Brady managed to make any of the first nine holes, he would donate $100,000 to Covid-19 relief. NBA Hall of Famer Charles Barkley was on commentary. Even he was trolling Tom Brady. 
A few plays later, Brady showed everyone that he can play good golf as well. Brady shot a ball for 100 yards out for a birdie and made a hole. Everybody watching was in disbelief. He made Koepka donate $100,000. "Shut your mouth, Chuck," Brady said to Barkley with a smile. "Take that medicine." 
Brady pulled a reverse uno on Tiger Woods
ADVERTISEMENT
Article continues below this ad
The golf legend Tiger Woods was spotted in Atlanta colors. It was his attempt to troll Brady. But Tom Brady reversed the tide. He said, "It's the Eagles that I cringe, bro. Not the Falcons." It was game over for Woods' joke. 
ADVERTISEMENT
Article continues below this ad
The context of that statement is, back in the Patriots' days, Brady lost a Super Bowl against Philadelphia Eagles. In 2018, the Eagles defeated the Patriots 33-41 for the Super Bowl. But every time Tom Brady has faced the Falcons, his team has triumphed. So the attempt by Woods to one-up Brady did not go as planned. 
Watch Stories: NFL Top 5 League Leaders in Rushing Yards; Jonathan Taylor, Nick Chubb, and More