Tom Brady Sets a New Personal High at 44 as Tampa Bay Buccaneers Win Big
Published 01/10/2022, 8:42 AM EST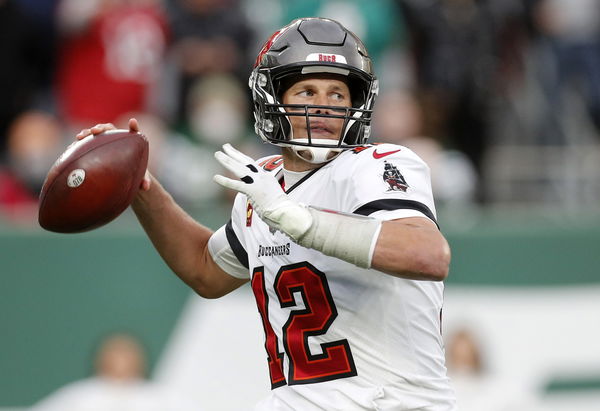 ---
---
Tom Brady, this man can never have too many records to his name. At the age of 44, he seems unstoppable. Whenever Tom decides to hang up his boots, the NFL history books will be filled with his name. It seems like you cannot go a week in the NFL without Tom Brady making a new record. It doesn't matter if it is personal or in the franchise record, Brady will claim them all. That is exactly what Terrific Tom has done again this week. 
ADVERTISEMENT
Article continues below this ad
ADVERTISEMENT
Article continues below this ad
During the Buccaneers' 41-17 win over the Panthers, Brady made a couple of new personal passing records. 
The new records of Tom Brady
For the second time in his illustrious career, Tom Brady has made more than 5000 passing yards. Brady has a total of 5,309 yards. That is a new career-high for him. The Tampa Bay Buccaneers quarterback broke the single-season passing record.
After week 18, Brady has 472 completed passes. California Cool found Mike Evans with a completion to own this record. Drew Brees previously held the passing record. He completed 471 passes over the course of a 16 game season. Even though Brady broke this record in 17 games, he broke it nonetheless. 
Brady Breaks his own record
It seems like Tom Brady came determined to add more flair to his name. He also broke his own record in the Panthers game. Brady provided the Buccaneers newest running back Le'Veon Bell with his first touchdown. 
ADVERTISEMENT
Article continues below this ad
With around 15 seconds left in the second quarter, Tampa Bay was on the attack. The Two-minute master, Tom Brady, called the play-action pass. He made a short one-yard pass to the running back. Bell carried it all the way and gave Brady his 41st TD pass of the season. During the last Super Bowl-winning season with the Buccaneers, Brady set a personal record. He made 40 TD passes in the last campaign. Last night he surpassed himself. How do you think he does it every time?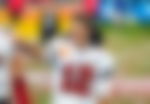 Even in his 22nd NFL season, Tom Brady is still making new records. He entered the week 18 game with a QB rating of 100.5. Brady is a strong contender for the MVP award this season. With the Buccaneers in the playoffs, who knows what other records will Brady break in the postseason? 
ADVERTISEMENT
Article continues below this ad
Watch Stories: Dak Prescott breaks Tony Romos single-season TD pass record in Cowboys win over Eagles