Tom Brady Shows He Doesn't Know Losing With Typical Start to New Career
Published 03/18/2023, 12:02 PM EDT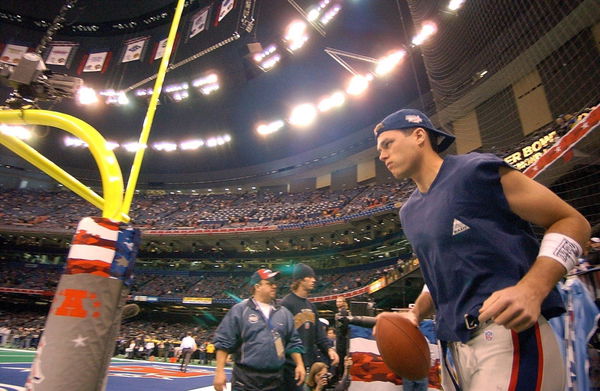 Ever since being drafted by the New England Patriots, Tom Brady has put his competitive spirit on display for the whole world to take notes. Brady has a winner's fortitude, and maybe that's why he sits at the mountaintop alone. Throughout his career, Brady has done nothing but accumulate accolades to his name. And with his athletic attitude, it is quite evident that he doesn't know losing.
Now that Brady has finally walked away from the game, he has turned his winning formulae to other things, something reminiscent of him driving down the fields with sheer speed. Brady has associated himself with the HERTZ-sponsored JOTA sports car team, and their recent results reflected Brady to perfection.
Tom Brady for the win
ADVERTISEMENT
Article continues below this ad
TB12 is on the way to adding the 24 Hours of Le Mans to his resume.
According to a statement by Tom Brady, "I have been a big fan of motor racing for a long time, and for BRADY to now be a part of Hertz Team JOTA as the future of motorsport apparel and design is an incredibly exciting opportunity, We're all looking forward to competing at the iconic Le Mans 24 Hours later this year."
As the iconic 'Le Mans prototype 2' races drew closer, Brady and his team were ready to shine.
Spearheaded by Yifei Ye, Will Stevens, and David Beckmann, the newly named Hertz Jota team took home the first LMP2 win of the 2023 FIA WEC season with its No.48 Oreca-Gibson.
An elated Brady also took to Instagram to share the victory, "First race, first win."
ADVERTISEMENT
Article continues below this ad
While Brady is not the leader in this particular project, his involvement is enough to bring about a winner's mentality to the entire squad, and that showed in the opening race as well.
Brady as the sponsor
The newly formed Hertz Team JOTA, found themselves in an ideal situation, as the Brady brand officially onboarded as their apparel partner. Despite this being his first venture into moto racing, Brady once again proved his keen eye for potential. Just last year, JOTA dominated in LMP2 and won their first championship, while consistently finishing on the podium at Le Mans in nine out of the last 10 years.
ADVERTISEMENT
Article continues below this ad
Watch This Story: GOAT Tom Brady settles retirement talk with the decision on NFL future
The Brady brand is all set to help out the JOTA team, dressing the team's staff and helping them out in terms of association. The car is also a representation of Brady, carrying his last name on the car's rear wing end plates.