Tom Brady Spares Josh Allen From His Trolling for This Hilarious Reason: "As My Birthday Gift To You I Will Not Unleash My Well Oiled Meme Machine "
Published 05/22/2022, 11:30 AM EDT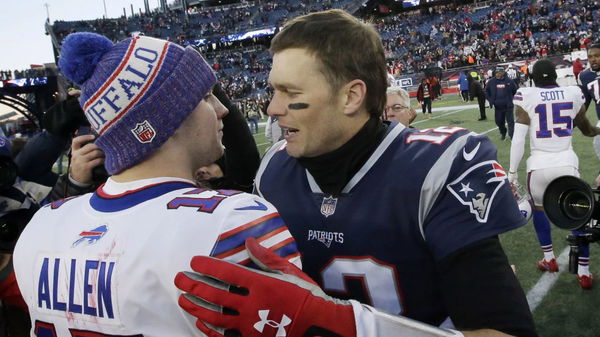 The legendary quarterback Tom Brady is the king of social media. He is known for his hilarious presence online. The GOAT is always on top of the media game. But he currently is in a friendly rivalry with fellow quarterback Josh Allen. But Brady has decided to take it easy on the Bills shot caller for one day only. 
It is Josh Allen's lucky day. He gets a free pass from Brady's top-notch trolling for a rare and special occasion. Why is the GOAT being so generous to Allen? Read on to find out.
ADVERTISEMENT
Article continues below this ad
Tom Brady gives Josh Allen Feud
Recently, four NFL quarterbacks have started a friendly rivalry. It includes some of the biggest names in the game. All four of them are scheduled to meet on a golf course before the start of the regular NFL season. The Tampa Bay Buccaneers quarterback Tom Brady and Green Bay Packers quarterback Aaron Rodgers will face off against the Kansas City Chiefs quarterback Patrick Mahomes and Buffalo Bills quarterback Josh Allen. 
All four of these quarterbacks have been taking shots at each other on social media ever since the golf match was announced. Brady trolled Allen at the expense of his own son. The GOAT edited the head of the Bills QB on his son playing golf. The post was hilarious, and the fans loved it. 
Brady's Birthday gift to Allen
ADVERTISEMENT
Article continues below this ad
Josh Allen did not sit back and let the Bucs' QB have his way. He suggested a name for the team of veteran QBs. Allen named the team of Brady and Rodgers, "The Grey Beards." To get back at Brady, Allen did something similar to the GOAT. He uploaded a picture of playing golf with Brady's head. It seems like things are heating up for the upcoming golf match. 
ADVERTISEMENT
Article continues below this ad
While both the quarterbacks keep firing at all cylinders, Brady has decided to let Allen off for a day. On the birthday of the 25-year-old Bills QB, Brady uploaded an Instagram story. In the story, he has given a free shot to Allen. "As my birthday gift to you I will not unleash my well oiled meme machine in a response to your low effort attack." Wrote the Bucs' QB on the edited picture Allen posted with Brady's head. Josh Allen might have gotten the best birthday gift ever. 
Watch This Story: Colin Kaepernick's Greatest Achievement Might Be This Award Associated With Muhammad Ali and Handed to Him By Beyonce