Tom Brady Takes Kids to Pizza Eatery After Split With Healthy-Living Guru Gisele Bündchen
Published 11/18/2022, 12:30 PM EST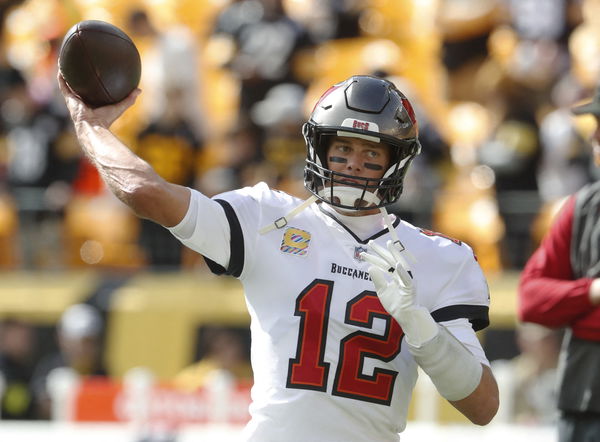 Torn Brady has been a roller coaster. This year was challenging for the NFL GOAT. Coming out of a relationship breakdown and continuous setbacks in the game are just a few examples. The Buccaneers have risen through the ranks and are fresh off their international debut in Munich. Brady is making the most of his bye week by spending time with his children and having small carb cravings.
ADVERTISEMENT
Article continues below this ad
The Buccaneers quarterback announced his departure from the NFL, only to rescind it 40 days later. It caused widespread excitement. However, Gisele Bündchen was unhappy with the decision, resulting in an epic fight. Following a series of events, the couple announced their legal separation.
ADVERTISEMENT
Article continues below this ad
Tom Brady uses bye week for a trip
According to Page Six, Tom Brady spent his bye week in NYC. He took off with his kids and went to Dellarocco's in Brooklyn Heights for pizza. The QB appeared content as he spent time with his kids. It looks like TB12 has taken some days off from his diet regimen after his split from his diet-conscious life partner. But he brought his drink in a flask and split a pizza with one of his children.
It is the first time since his marriage that Tom Brady would be without Gisele Bündchen during the bye week. But the quarterback is spending time with his children while taking days off from his diet regime. It is something he could not have done with a health freak Bündchen.
Tom Brady is fresh off the NFL's international regular season debut and made a sweep over the Seahawks. The QB1 is back in form and has been undefeated since he became a single man.
Take a Look: Gisele Bündchen's norms for healthy eating
ADVERTISEMENT
Article continues below this ad
Tom Brady is a noted personality, but his diet plan has had a lot of attention. The QB still took some chest meals to satisfy his cravings. But Gisele Bündchen has some clean-eating rules. As per Vogue France, the supermodel and her family start their day with fresh fruits and vegetables directly from her vegetable garden. The meal has no shortage of vitamins. 
ADVERTISEMENT
Article continues below this ad
The family's diet comprises 80% organic vegetables and whole grains, specifically brown rice, quinoa, millet, and beans. They are cooked in organic coconut oil. In terms of meat, they consume only organic produce. The family concludes their dinner by six to give the body a good deal of time to digest the food. Furthermore, the supermodel goes through a detox every season, which has helped her immune system.
Watch this story: Tom Brady Invokes the Gladiator after a gigantic win Germany
Edited By: Gurjyot Singh Dadial