Tom Brady Votes to Put This Former Patriots Safety in the Pro Football Hall of Fame
Published 11/24/2021, 7:42 AM EST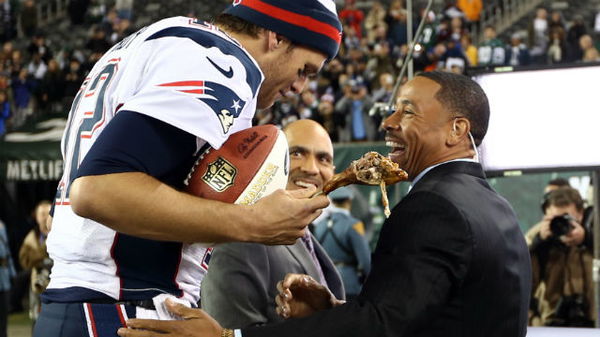 ---
---
Tom Brady, during his 21 years and counting career in the NFL, has played with and against numerous athletes of different generations. But during his two-decade stay with the New England Patriots, the quarterback knew that Rodney Harrison will "most certainly" make the Hall of Fame, which he does even today.
ADVERTISEMENT
Article continues below this ad
And since it is that time of the year that the Pro Football Hall of Fame will announce their modern-era semifinalists, NFL Media Analyst Scott Pioli wrote a whole article, explaining why former safety Rodney Harrison deserves the Hall Call, which was later backed up by Tom Brady himself.
ADVERTISEMENT
Article continues below this ad
Tom Brady wants Rodney Harrison in the Pro Football Hall of Fame
Tom Brady and Rodney Harrison shared the field together for five seasons, during which they even won two Super Bowls consecutively in 2003 and 2004. And since the safety retired from football in front of Tom Brady in 2008, the quarterback knows well that he certainly deserves to be the Hall of Famer.
So does Scott Pioli, who was the Vice President of Player Personnel in the New England Patriots during the time of Rodney Harrison. In his article, Pioli compares the 2021 class Hall of Famer John Lynch, with Rodney to prove his point that "if John is in, Rodney should be too."
Scott Pioli compares Rodney to Lynch
ADVERTISEMENT
Article continues below this ad
Pioli takes the help of numbers and compares the 15-year careers of both the players to prove that Rodney outperformed Lynch in every aspect of the play, yet "how does one player [Lynch] get enshrined while the other [Rodney] has made the semifinalists list once?"
ADVERTISEMENT
Article continues below this ad
Later, Pioli expresses that "if Rodney Harrison has been kept out of the Hall of Fame due to the suspensions and fines, it's a lazy argument." He referred to the bumpy path of Rodney's career. It was a career complete with suspensions and multiple fines. He explained how Rodney believes his ban on using HGH was a "black cloud" over his career, and if someone really deserves a Hall Call, then it's him.