Tom Brady Weighs in on Josh Rosen's Role at Buccaneers
Published 12/18/2020, 4:57 AM EST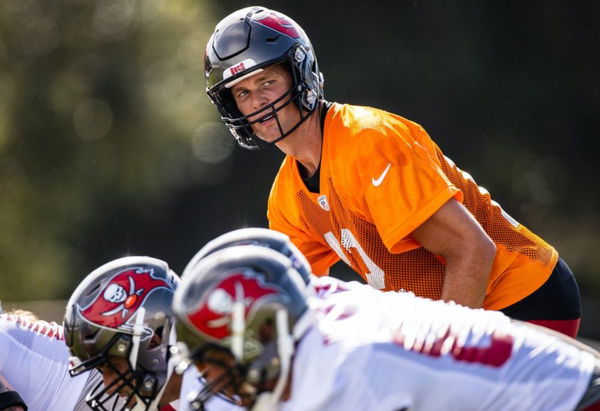 Tom Brady is the NFL's winningest quarterback in history. With over 250 wins under his belt, it's safe to say, Brady knows a thing or two about winning a football game.
The same, unfortunately, cannot be said about Josh Rosen. Drafted back in 2018 as the 1oth overall pick by the Arizona Cardinals, Rosen has failed to live up to the expectations. Now signed with Tampa's practice team, Rosen is part of the squad of QBs Brady trains with.
Rosen, only 23, still has time on his side. And who better to learn the craft of quarterback from than Tom Brady. While interacting with the media on Thursday, Brady talked about how his fellow quarterbacks and Rosen's role in the team.
ADVERTISEMENT
Article continues below this ad
COVID limiting interactions
Brady said that due to the strict COVID guidelines, interactions with teammates have been fairly limited. The need for such protocols is necessary as seen with the recent surge of Coronavirus cases in the NFL. Recently, Buccaneers' running back Ronald Jones was put on the COVID Reserve list.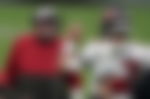 "I think it's not as much interaction as we all probably would have liked or enjoyed. But we have a great quarterback room, we have Blaine (Gabbert) and (Ryan) Griff.
"We just have a lot of conversations about football. We have some veteran guys and then Josh, the younger guy, but Josh has a lot of experience too. So it's a strong group, it's a group that works really hard," said Brady.
"And we're all trying to be the best we can be for one another. So if I have things that I want to share with those guys, I let them know they're all very supportive of me over the course of the week. Josh has done a great job in his role… We have a great room," he added.
Tom Brady and Rosen share fairly different career trajectories
Within his second full season, Tom Brady was a Super Bowl MVP. He got his franchise their first-ever Lombardi trophy. Josh Rosen in his second season was the backup to Miami Dolphins starting QB Ryan Fitzpatrick.
Rosen's first season too was far from pretty as it was blight with interceptions. Throwing 11 interceptions throughout the season, Rosen led the Cardinals to a 3-10 record.
The Cards were quick to move away from Rosen by drafting Heisman-winner, Kyler Murray, with the first overall pick in the 2019 draft.
ADVERTISEMENT
Article continues below this ad
Rosen was then traded to the Dolphins, where he played 6 games for 5 interceptions. The Buccs signed the 23-year-old Rosen for their practice squad in September 2020.
ADVERTISEMENT
Article continues below this ad
It's fair to say that Rosen, with time on his hand, would do himself well to pick up a few tricks from one of the greatest QBs to ever play the sport.