Tom Brady's Response to His Haters Who Call Him A 'Fraud' Draws More Jaw-Dropping Reactions From The Same Bunch Of Haters
Published 06/21/2022, 9:30 AM EDT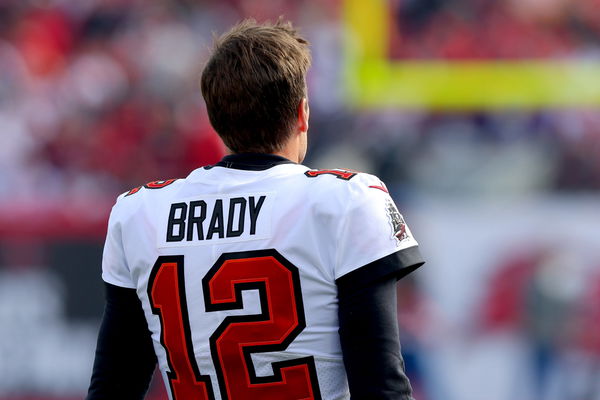 Tom Brady is among the greatest quarterback in history and has won the most number of Super Bowls. Being one of the most popular NFL players, he still has many haters who keep criticizing him on social media. Usually, Brady never answers back, but this time he came up with a creative idea to respond to his haters.
Brady collaborated with Seth Phillips, also known as 'dude with sign' to create a series of tweets with some special messages. In one of those tweets, the GOAT posted a picture of Seth Phillips and himself, where Phillips can be seen wearing Brady-brand underwear and holding a signboard.
The message on the signboard read, "Stop trying to promote your underwear, Tom". Brady recently posted a video on his social media where was wearing Brady-brand's new line of underwear. The signboard message was regarding the same.
Moving forward in the next image, Phillips is holding a signboard that reads, "Tom Brady is slightly overrated". Brady captioned the tweet as "Bro who even let you in." Brady has often been tagged as overrated by his critics and he takes up this issue and answers back to all his haters.
Brady edited the signboard and changed the sentence to "win a real ring, fraud". He captioned the tweet with, "The robots every time I press send on a tweet." Brady was referring to those online critics who always reply with "win a real ring," whenever Tom Brady posts a tweet. 
Tom Brady haters react after NFL star QB shares a series of messages for them
Well, this time too was the same. While some came out and praised Brady for his achievements, the other lot kept to their word that Brady is overrated. Let's look at some of those replies from the bunch of Tom Brady haters.
Mostly, critics accuse him of being overrated because they think it was not Brady who won the Super Bowls, but the Patriots who did. They think it was because of the strong planning and execution of the coach Belichick that New England succeeded, not because of Brady's gameplay.
Tom Brady has started in 10 Super Bowl games and has won 7 of them. He won 6 Super Bowl rings while playing for the New England Patriots and one ring while playing for the Tampa Bay Buccaneers. Brady will be starting this 23rd season in the NFL and is looking forward to winning his 8th Super Bowl ring.
Watch This Story- Colin Kaepernick Donated His Sneaker Collection in Epic Show Of Kindness to Help the Homeless
Edited By: Gurjyot Singh Dadial