NFL Fines Cassius Marsh $5,000 for 'Unsportsmanlike Conduct' Despite Fan Backlash and 'Hip Check'
Published 11/14/2021, 4:00 AM EST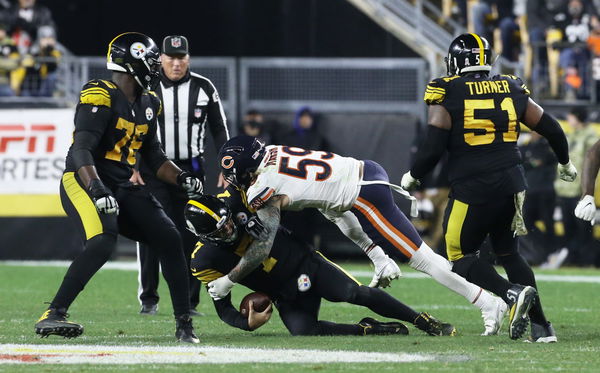 ---
---
The NFL doubled down on the controversial taunting penalty to the Chicago Bears during their week 9 matchup against the Pittsburgh Steelers. As recently, the league announced that a fine of $5,972 will be charged to the Bears' linebacker Cassius Marsh following his most debatable move during the play.
The NFL fined the linebacker on account of unsportsmanlike conduct for taunting the Steelers bench after sacking Ben Roethlisberger in the last quarter of the game. Although the flag didn't come out until the player was 'hip-checked' by the referee, Tony Corrente, which made the incident even more controversial.
The penalty cost the Chicago Bears a win?
After loads of criticism and debate, the NFL ultimately took the side of the referee by charging Marsh over $5,000 on Saturday. The penalty was seemingly a big frustration for the Bears, as they were trailing with three points when Marsh sacked the quarterback, which instead led to a penalty giving the hosts an advantage.
The NFL not only stands behind Monday night's controversial taunting call against #Bears LB Cassius Marsh — the league informed Marsh on Friday he's being $5,972 for unsportsmanlike conduct, per sources.

— Tom Pelissero (@TomPelissero) November 13, 2021
The penalty cost the Bears a possession as the Steelers got the ball for a new set of downs to run more time on the clock before kicking a field goal. However, that play did not decide the endgame scoreboard as the Bears took the lead on their next possession just to get battled down by the Pittsburgh Steelers on a last-second field goal, losing the game by a close 29-27 margin.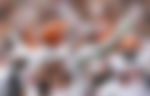 The NFL fines Cassius Marsh for this
In the end, the Bears lost the game and for the fans; it was the taunting incident that caused it. However, later in the post-game conference, the linebacker revealed he believed he was definitely 'hip-checked' by the referee Tony Corrente and that it was 'incredibly inappropriate'.
Although the referee carved a completely different statement that his 'hip-check' moment had nothing to do with him flagging the player and it was completely the taunting aspect that made him commit to the call.