Travis Kelce Makes a Bold Claim About Kansas City Chiefs Quarterback Patrick Mahomes
Published 08/28/2021, 9:10 AM EDT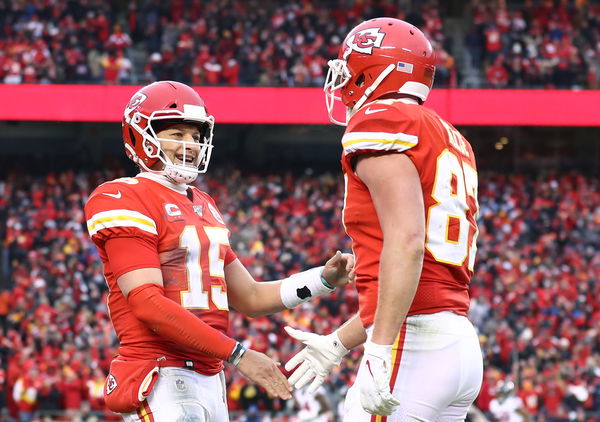 ---
---
Kansas City Chiefs quarterback Patrick Mahomes has been climbing up the NFL ladder almost faster than anyone before. Aged 25, the quarterback has already won the honor of being league MVP and has a Super Bowl ring to his name as well.
ADVERTISEMENT
Article continues below this ad
Draft back in 2017, the first-round though had to sit out most of his rookie career as backup to quarterback Ale Smith. Smith, a first-round draft pick himself was a much more experienced quarterback and was arguably at his prime when Patrick Mahomes took over.
While Mahomes has already gone on to achieve huge success in his first three years as starter of the Kansas City Chiefs, the QB credits a lot of it down to Alex Smith.
ADVERTISEMENT
Article continues below this ad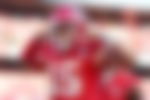 Smith took on the role of mentor for Mahomes and guided the QB through his first year in the league, keeping him away from the harh spotlight of the league.
Mahomes since has helped the Chiefs offense become a juggernaut with the help of wide receiver Tyeek Hill and tight end Travis Kelce.  And Kelce certainly has little doubt that Mahomes would've gone on to achieve the same sort of success without sitting out his rookie campaign.
Travis Kelce feels Patrick Mahomes undersells himself
While appearing on the Rich Eisen Show, Kelce said that he has little doubt about whether or not Patrick Mahomes would've achieved the same success had he not sat out his rookie season.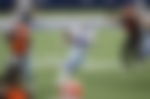 "I'm a little biased in who Patrick Mahomes is. I think I saw it from the get-go, his determination, his ability to see coverages early, feel confident in what he's seeing, be able to throw a good ball. And then, obviously, his ability to make plays when the play breaks down," Kelce said.
The Chiefs tight end lauded Mahomes' intensity and desire to play. And seeing it upfront for years now, the tight end feels Mahomes could've done without that gap year.
ADVERTISEMENT
Article continues below this ad
"It's just second to no one that I've ever played with or ever seen on the field," he said. "So, I'm a little biased when I say I don't think he needed that year."
But Kelce did say that being under the wing of Smith helped the quarterback master the mental aspect of being a quarterback in the NFL.
ADVERTISEMENT
Article continues below this ad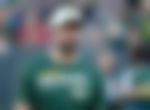 "Him understanding Alex's professionalism, just how to be a pro. It's reassuring," Kelce said. "It gives you that confidence that 'OK, I know how to do this. This is a guy who has had success in the league for numerous years, almost a decade now, and he does it like this."