Travis Kelce Pokes Fun at Taysom Hill's New Contract Involving Voidable Years
Published 03/16/2021, 12:47 PM EDT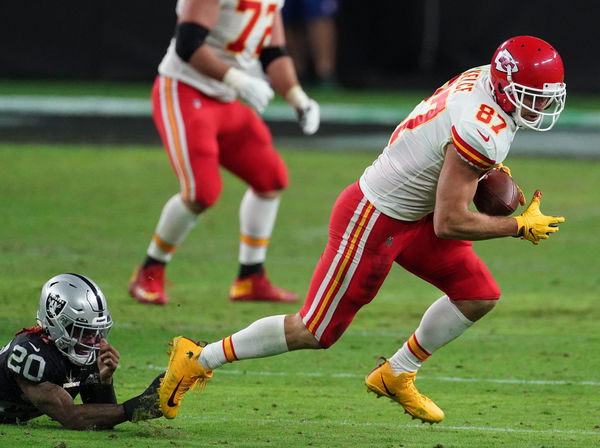 ---
---
Moving on from the defeat to the Tampa Bay Buccaneers in Super Bowl LV, Kansas City Chiefs' tight end Travis Kelce is all geared up for the upcoming season.
ADVERTISEMENT
Article continues below this ad
The Chiefs, who were Super Bowl champions of 2019, faltered at the final step to defend their crown last season. But while Kelce's showing in the recent Super Bowl isn't one that'll be added to his highlight reel, his overall season on a personal front was one to remember.
Travis Kelce scored 11 touchdowns and broke the all-time NFL record for most receiving yards by a tight end in a single season. All this warranted a nod to be named in 2020's All-Pro team.
ADVERTISEMENT
Article continues below this ad
Now, firmly locked down by the Kansas City Chiefs, Kelce engaged in a conversation with former NFL punter Pat McAfee about the ongoing free agency market.
And during that conversation, the two shared a bit of a laugh regarding some of the new contracts being handed around.
Travis Kelce has no clue about voidable years
McAfee during a segment of his show asked Travis Kelce about the new contract offered to New Orleans Saints QB Taysom Hill. Hill's contract has been the topic of debate because of the staggering amount attached to it.
The Saints backup quarterback signed a 4-year, $140 million contract with the franchise.
"Can you say those numbers again? You said he's a quarterback now? Is he a tight end?" asked Kelce with a tongue-in-cheek comment.
Hill's contract, however, comes with a catch. All 4 years of the deal are voidable. The term 'voidable years' is new in the glossary for many NFL fans this offseason.
ADVERTISEMENT
Article continues below this ad
These years are technically added to a contract to spread the signing bonus over the years to make cap space for the current season. By signing Hill to this new deal, the Saints approximately saved themselves over $7.5 million in cap space for 2021.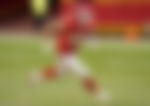 Kelce seemed amused by the deal handed to Hill. The tight end said that all he knows that you play to get paid. "No, no, I think it just went right over my head, man. I don't know anything about these voidable years. I just know you play, you get paid. That's all."
ADVERTISEMENT
Article continues below this ad
With the salary cap for 2021 being decreased due to COVID-19 repercussions, franchises are coming up with unique ways to get under the cap limit of $182.5 million. And now with the free agency on, expect similar deals to materialize real soon.