Trevon Diggs and Micah Parsons Make History; Have They Made Dallas Cowboys the Best Defensive Team in the NFL?
Published 12/30/2021, 9:29 AM EST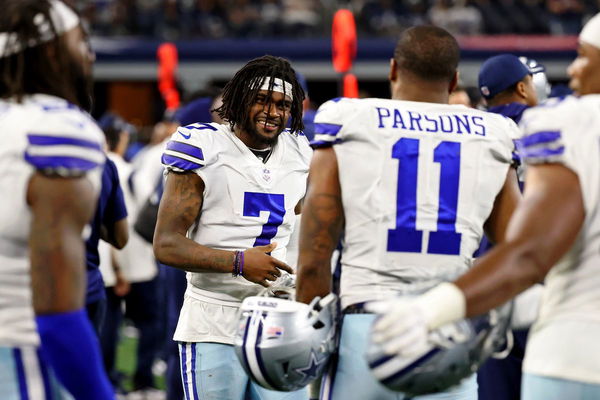 ---
---
The Dallas Cowboys defense is impenetrable. If you are playing against them, you will have a really hard time gaining any yards. The duo of cornerback Trevon Diggs and linebacker Micah Parsons strikes fear in the hearts of every NFL offense. 
ADVERTISEMENT
Article continues below this ad
Both the defenders have been incredible through the season. Both of them have been able to set records this year. The Cowboys are marching towards the playoffs, thanks to their one-of-a-kind defense. Not many have been successful in getting past the Cowboys' defense. The Cowboys are the first in NFL history to have players with 10+ interceptions and 10+ sacks in a single season.
ADVERTISEMENT
Article continues below this ad
Trevon Diggs to own a Cowboys' franchise record
Trevon Diggs has been a favorite to win the defensive players of the year award. And for good reasons. The second-year cornerback has exceeded everybody's expectations this season. With two more games to play, he is set to become the first Cowboys' player to have over 11 interceptions. in a single season. In last week's dominating 56-14 victory over the Washington Football Team, Diggs made the record. The Week 16 game against the WFT was a complete one-sided wipe-out. 
After completing the milestone, when reports asked Diggs how he felt, he said, "I feel like it's normal," Trevon adds, "I feel like I can get as many picks as I want. I just need the opportunities and good positioning. I'm going to make it happen. The sky's the limit, so we'll see." The sky is truly the limit for Diggs. In the week 16 game, he tied the record set by the Cowboys rookie Everson Walls in 1981. 
The unstoppable rookie year of Micah Parsons
The Cowboys' number 12 overall pick Micah Parsons is having one of the best rookie years ever. His game is even challenging some all-time pros across the history of the league. In his first year, Parsons has made more than 13 sacks. He also has over 75 tackles, over there passes defended, and forced fumbles.
ADVERTISEMENT
Article continues below this ad
The fact that Parsons has achieved all of this in his season is almost unbelievable. With him bringing plays like this to the table, who knows where the rookie will go in the future. The talents of Parsons are being compared to NFL legends like Lawrence Taylor and many others. 
ADVERTISEMENT
Article continues below this ad
With over 10 sacks and 10 Interceptions, Diggs and Parsons have made NFL history. The Dallas Cowboys became the first team with a single-season accolade like this. 
Watch Stories: NFL Announces NFC 2022 Pro Bowl Rosters- Chandler Jones, Micah Parsons, and more