Trey Lance Gets the Nod to Start vs Houston Texans; Jimmy Garoppolo Is Doubtful With Injury
Published 01/02/2022, 4:00 AM EST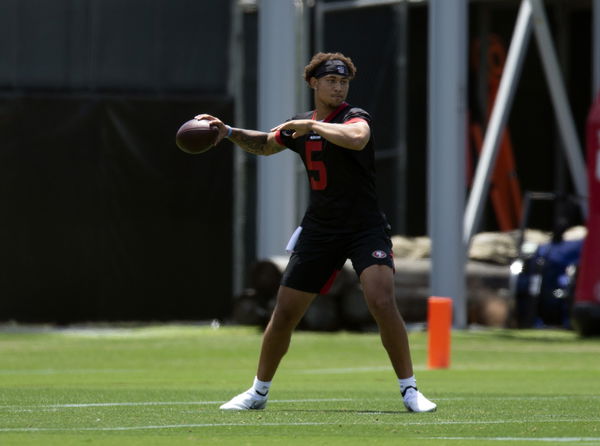 ---
---
San Francisco 49ers QB1 Jimmy Garoppolo will be an injury doubt for Sunday's contest against the Houston Texans. By sitting out during Friday's training session, Garoppolo was missing drills consecutively for a fourth straight day. Coach Kyle Shanahan now will be depending upon rookie QB Trey Lance for conducting their offense against the Texans.
ADVERTISEMENT
Article continues below this ad
The rookie was part of all their training session drills in place of Garoppolo. Coach Shanahan while speaking about Lance says, "I'm not ready to announce that. Jimmy is not out, so I'm holding out hope. He's got a chance this week, so he'll have a better chance next week."
ADVERTISEMENT
Article continues below this ad
Usually, when an NFL player gets injured, they usually are rested for the next week's set of fixtures. But Coach Shanahan seems to be very against the idea of allowing rest and recovery for Garoppolo. For Lance, it will mark only his second NFL start, and the gesture of allowing him to talk to media only confirms the theory.
Jimmy Garoppolo Loss is Trey Lance's Pleasure
While speaking to the media, Lance excitedly conveys, "Practicing with the first team this week, I don't know if Jimmy is going to be able to go on Sunday, but for me to be able to get those reps, I think, was huge. Whether I can go on Sunday or not, I think I gained a lot from it."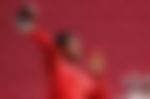 ADVERTISEMENT
Article continues below this ad
His last appearance came on the 10th of October resulting in a 17-10 loss against the Arizona Cardinals. He completed 15 of his 29 passes for 192 yards, garnering only one interception. He ended the game with a passer rating of 58.4 while having four of his passes tipped. It was the performance of a work-in-progress player who showed glimpses of quality potential.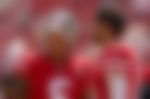 Trey Lance also ended up suffering a sprained left knee in the game, which killed any momentum. It meant he was away and distant from getting important progressive reps for improving his game. He also credits both Jimmy and senior player Nate Sudfeld in aiding his growth as an NFL player.
ADVERTISEMENT
Article continues below this ad
If training ground chatter is something to be heeded by, the 2021 prospect is on track to be the future face of the 49ers franchise. The question for both Coach Shanahan and Jimmy Garoppolo will be when rather than if in regards to Trey Lance's welcome-to-the-league moment.
Watch Stories: Five Things That Took Place When Aaron Rodgers Threw His First TD Pass for Green Bay Packers