Tua Tagovailoa to Remain in Miami Dolphins as Deshaun Watson Trade Deal Collapses
Published 11/04/2021, 5:52 AM EDT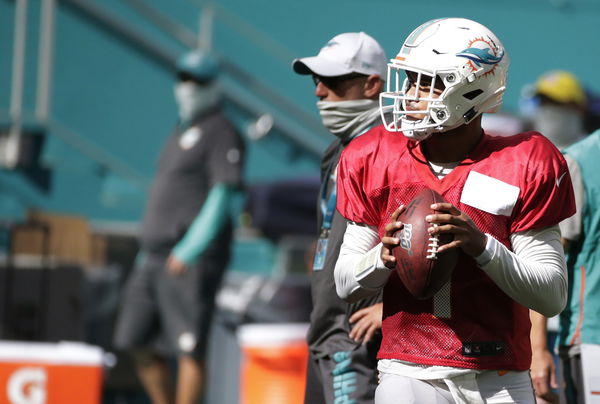 ---
---
Tua Tagovailoa has had an awkward start to his season. Miami Dolphins aren't just in the doldrums, but are suffering from a lack of squad depth. As a result, they looked elsewhere for options, which led them to Deshaun Watson. Now, the Deshaun Watson trade to Miami has gone nowhere, and Tua has an idea why.
ADVERTISEMENT
Article continues below this ad
Tua Tagovailoa to remain at Miami Dolphins
ADVERTISEMENT
Article continues below this ad
Deshaun Watson may have an animated life outside the NFL, but his performances on the field cannot be discredited. The Houston Texans quarterback hasn't influenced the side much this season, especially since the franchise put all their faith in rookie QB Davis Mills. Meanwhile, the only win of their season came against Miami Dolphins.
On the East Coast, Miami missed Tua Tagovailoa for the beginning of the season. The Samoan suffered a rib injury which sidelined him for a few months. His return game wasn't even the US, as they head to London to take on Jacksonville Jaguars in one of the most intriguing games of the season. Despite registering a touchdown pass, Tagovailoa and Miami fell to Jacksonville.
Being the first team to lose to the Jaguars in two years was too much of an embarrassment for the Dolphins to avoid. Hence, they immediately sought some fresh blood into the team. Now, the trade talks between Deshaun Watson and Miami Dolphins have ended. According to Dolphins GM Matt Grier, the franchise was simply checking on Watson's availability.
This announcement by NFL insider Mike Garofolo reveals important information about the alleged trade talks. According to him, Los Angeles Chargers and Cincinnati Bengals were also interested in Watson, but didn't reach out to him. Fortunately for Tua Tagovailoa, his team showed faith in him and retained him for the rest of the season.
Read more:
How will Tua move on from this debacle?
ADVERTISEMENT
Article continues below this ad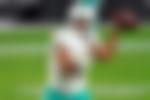 This situation cannot receive any other name, except for debacle. For one simple loss, Miami stirred up a storm that almost cost their star quarterback his self-confidence. Of course Miami believes in Tagovailoa, but not for lack of displaying it. By wanting Deshaun Watson, a serious doubt fell upon Tua and his future in the NFL.
Despite the debacle, Miami isn't in trouble this season. While not outright favorites to win their division, there is still some hope. Lying dead last in the AFC East, the Dolphins stand a couple of wins away from challenging New England Patriots for a wildcard entry into the playoffs.
ADVERTISEMENT
Article continues below this ad
Of course they would have to overtake New York Jets, who have also found their form. But, we cannot write any team off this early into the season. Yes, we may be in game week nine, but the regular season is far from over. Can Miami Dolphins do the impossible and qualify for the playoffs? More importantly, will Tua Tagovailoa be mentally prepared for the rest of the season?