Tua Tagovailoa's Spot In Doubt After Houston Texans Ready To Trade Deshaun Watson To Miami Dolphins
Published 10/21/2021, 7:28 AM EDT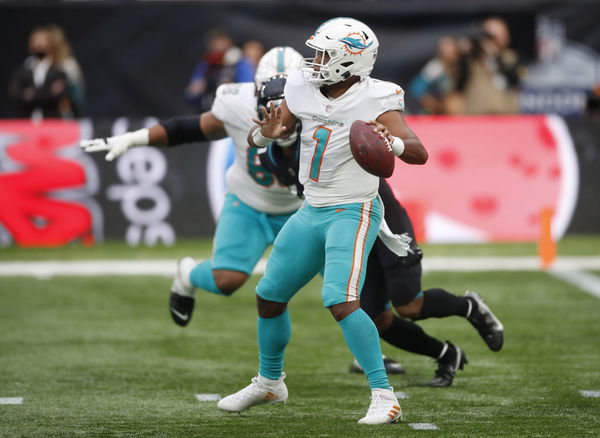 ---
---
The NFL trade deadline is approaching quickly, and many teams are trying to make cap space available. Whether this means getting rid of star players for favorable draft picks, or cutting out the clutter. For Houston Texans, they've made the big decision to trade former QB1 Deshaun Watson, and Miami might be a possible destination.
ADVERTISEMENT
Article continues below this ad
Deshaun Watson trade talks leaves Tua Tagovailoa's spot in doubt
ADVERTISEMENT
Article continues below this ad
Currently, Miami Dolphins sit dead last at the bottom of the AFC East, behind the Bills, Patriots and Jets. Their star quarterback Tua Tagovailoa missed the beginning of the season because of an injury, but returned to action in London. Unfortunately, Tua suffered a humiliating defeat to Jacksonville Jaguars.
Being the first team in two years to lose to Jacksonville has got to sting. However, news that Tua might lose his spot may just sting a little bit more. "Both teams are hungry to make a move," a source stated. In Deshaun Watson, not only is Miami gaining an experienced quarterback, but one who made the Pro Bowl team three years in a row.
As for Tua Tagovailoa, he will definitely find solace in the arms of another franchise. Currently, Washington stands first in line to lure the Samoan to their squad. With Taylor Heinicke turning it mediocre after mediocre performances, Ron Rivera might've decided it's time for a change.
If this trade goes down, we could be witnessing the prelude to a crazy second half of the season. Miami won't miss Tagovailoa a lot, especially if there's a Pro Bowl quarterback in their squad. As for Watson, he gets a new lease on life in one of the most electric cities in the world.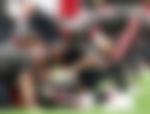 Teams that should snap up Tagovailoa
ADVERTISEMENT
Article continues below this ad
Make no mistake, Tua Tagovailoa is one of the best quarterbacks in the NFL. Many wrote him off after Miami lost to Jacksonville, but few considered the fact that he recently returned from injury. He had to play smart and avoid injury, which is why he avoided getting hit too many times and went to the ground often.
Although this cost them the win, it is clear how crucial he is to the Dolphins. Trading him would be a huge mistake, but gaining an athlete like Deshaun Watson makes the situation conceivable. But amidst this confusion, which teams would benefit the most from Tagovailoa?
ADVERTISEMENT
Article continues below this ad
First up is Washington, who are already interested in getting him on board. Second is the Broncos, who are missing a dynamic quarterback in their squad. Third and finally, Green Bay Packers could massively benefit from getting Tua on board, especially with Aaron Rodgers' contract situation. While that could mean he'd have to sit out for most of the season, who's not to say he won't get a chance to get on the field?