"$25 Million Guaranteed": Jalen Ramsey Drops Three-Word Message to Famous Sports Agent Amidst Tom Brady Rumors
Published 03/13/2023, 3:32 AM EDT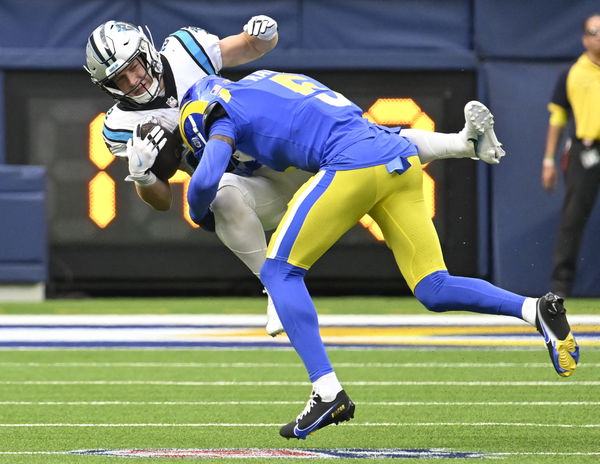 The offseason is a time for change all around the NFL. And cornerback Jalen Ramsey is also making changes in his personal and professional life. The Super Bowl winner is part of a blockbuster trade deal that gives the Los Angeles Rams some draft capital. And Ramsey has dropped a three-word message for a famous sports agent amid Tom Brady rumors.
Brady retired from football at the end of the 2022 season after a 23-year stellar career in the NFL. But even after retirement, rumors around his future refuse to die down.
Jalen Ramsey has a three-word message for sports agent
ADVERTISEMENT
Article continues below this ad
The Miami Dolphins are getting cornerback Jalen Ramsey in a blockbuster trade deal from the Rams. According to reports around the matter, the Rams will get a third-round draft pick for 2023 along with tight end Hunter Long. And according to NFL Insider Ian Rapoport, Ramsey will get guaranteed two years to complete a deal with an average salary of $20 million. And due to the trade, he will also get an additional $25 million in guarantees.
After the trade, Ramsey had a three-word message for sports agent David Mulugheta. After calling him the GOAT, the cornerback credited him for getting such a deal on the table. So, Ramsey is celebrating the trade deal.
Thank you GOAT," Ramsey said in a tweet tagging Mulugheta. "Not the first time you've helped my dream come true!" the 2022 Super Bowl champion added.
The Dolphins are surely chasing the Super Bowl and are strengthening their roster for that. And all of this comes amid a lot of rumors around Tom Brady, who has the title that Ramsey gave his agent.
The Tom Brady rumors
Ever since the end of the Tampa Bay Buccaneers season in January, rumors about Tom Brady and his future are doing rounds. Even his retirement announcement did not put a dent in them. Maybe fans expect him to come out yet again and play, just like the 2022 offseason. And his rumored destination is Jalen Ramsey's new home, the Dolphins.
ADVERTISEMENT
Article continues below this ad
The Dolphins rumors gained traction after a video of Brady checking out a school for his kids in Miami went viral. And it has snowballed ever since. The seven-time Super Bowl champion clarified through a tweet that he won't come back. But the rumors just keep coming.
ADVERTISEMENT
Article continues below this ad
The Dolphins would love to have Brady play at the Hard Rock Stadium. Especially with all the injuries that affect Tua Tagovailoa. And while the fans will be ecstatic if that happens, maybe it is time to consider that it might not.
WATCH THIS STORY: Tom Brady reveals the worst kept secret about NFL holdings