NFL Twitter Goes Crazy as RB Leonard FOURnette Saves the Day for Tampa Bay Buccaneers Against Colts
Published 11/28/2021, 6:07 PM EST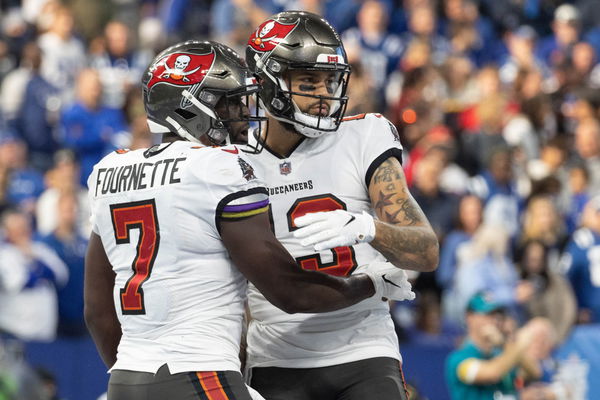 The Tampa Bay Buccaneers sneaked a win right under the nose of the Indianapolis Colts in the last drive of the intense Week 12 matchup in Lucas Oil Stadium. It was definitely a day for the running backs of the Buccaneers, as either Leonard Fournette or Ronald Jones scored all five touchdowns.
Although out of those five touchdowns, four were scored by Leonard Fournette alone, including the game-winning drive which put the Buccaneers up by a play's lead and just 20 seconds left in the clock for the Colts to respond. It seemed to be a big takeaway by the Tom Brady side since they seemed little like themselves in the first half of the game, but certainly picked up the pace as they went on to the second.
ADVERTISEMENT
Article continues below this ad
Leonard Fournette sets the Lucas Oil Stadium on fire
The Indianapolis Colts dominated the first half of the play as the quarterback Carson Wentz was stubborn with the ball, completing 10 of his 13 pass attempts in the game early on. Tom Brady had a slow start, but the GOAT's resilience and some crucial interceptions by Tampa Bay upheld their winning status back on the scoreboard.
Although the win couldn't have been possible if the running back Leonard Fournette had not stood up to the opportunity to produce an unbelievable spell of 17 carries covering 100 yards with an average of 5.9 yards per carry and scoring three touchdowns while rushing and recording 7 catches for 31 yards and a touchdown while receiving.
And at the sight of the incredible game-winning dash at the very last moment of the game, the NFL Twitter did the thing it usually does, go crazy.
Antoine Winfield says Leonard Fournette told the team at halftime that they had to keep fighting and that they controlled their own win destiny.

— Scott Smith (@ScottSBucs) November 28, 2021
Tampa Bay Buccaneers have discovered a weapon
ADVERTISEMENT
Article continues below this ad
Along with Fournette, the contribution of the Bucs star, Rob Gronkowski, was simply unforgettable. Since the tight end received for 123 yards in just seven receptions, recording a whopping average of 17.6 yards per reception.
However, it was not quite the day for the Colts RB Jonathan Taylor, since the star player was used later on after giving a dormant start in the game. He carried the ball 16 times, covering 83 yards for a touchdown with an average of 5.2 yards per carry.
ADVERTISEMENT
Article continues below this ad
Since the defending champions have unleashed a dangerous, rushing weapon, they would most certainly be excited to use it during their next matchup against the Falcons as well. It will be quite a delight to see the running back set another career-high in his coming fixture.4