'Ruining Fingers Since 2014' – Aaron Donald Proves Why 'Running At Him' Is A Bad Idea As Rams Beat Seahawks
Published 10/08/2021, 8:00 AM EDT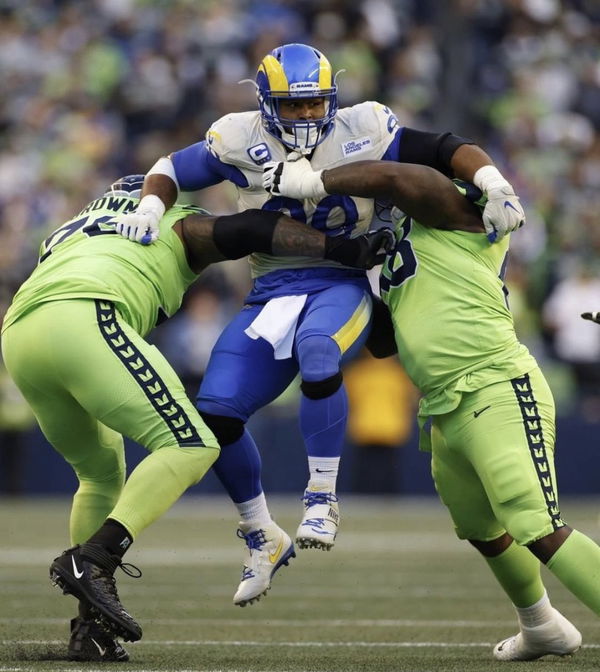 ---
---
We might've just witnessed the most eventful game of the 2021 NFL season. Los Angeles Rams made the trip to the Hawks' Nest to face a strong Seattle outfit. Watching Seattle's incredible offence against the Rams' super-powered defence was going to be delightful. In the end, the Rams prevailed, and most of the credit goes to Aaron Donald.
ADVERTISEMENT
Article continues below this ad
Aaron Donald steals the show in typical 'beast' fashion
ADVERTISEMENT
Article continues below this ad
Los Angeles Rams' star defensive tackle Aaron Donald put on an absolute show against the Seahawks. Not only did he put the opposition's offence to the sword, he even took out their star quarterback. In the second quarter of the game, Russell Wilson attempted a forward pass, only for Donald's frying pan-sized hand to come flying at him.
Upon contact, Russell Wilson's finger suffered the brunt of the damage, while Aaron Donald probably shrugged his shoulders and walked off. The human boulder actually caused Wilson to split his finger and miss the last quarter of the game. Geno Smith came on for the Seahawks' QB #1, but even he could barely penetrate the Rams' defense.
Still so in shock by the play the Seahawks ran on 4th and 2 I can barely tweet. Maybe if you had a healthy Chris Carson … but you run it right at Aaron Donald??? You don't use Russell Wilson on a run-pass option??? You pass up a 47-yd FG??? DUMBEST CALL I'VE SEEN ALL YEAR.

— Skip Bayless (@RealSkipBayless) October 8, 2021
Donald also made history by breaking the all-time sacks record for the Los Angeles Rams. With one sack in the third quarter, tearing Russell Wilson to the ground, Donald picked up sack 88.5 of his career. This was enough to carry him to the creme de la creme of LA Rams' defensive icons.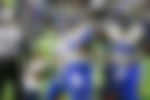 ADVERTISEMENT
Article continues below this ad
ADVERTISEMENT
Article continues below this ad
But, we all know it isn't records or 99 Madden ratings that Donald is chasing. The seven-time Pro Bowler and three-time Defensive Player of the Year has not won the big one yet. Will 2021 be the year Aaron Donald finally reaches the summit? Can the beast win the Super Bowl and go on to become one of the greatest players in NFL history?