Twitter Reacts as Titans Stars Derrick Henry, Ryan Tannehill Rip the Buffalo Bills Apart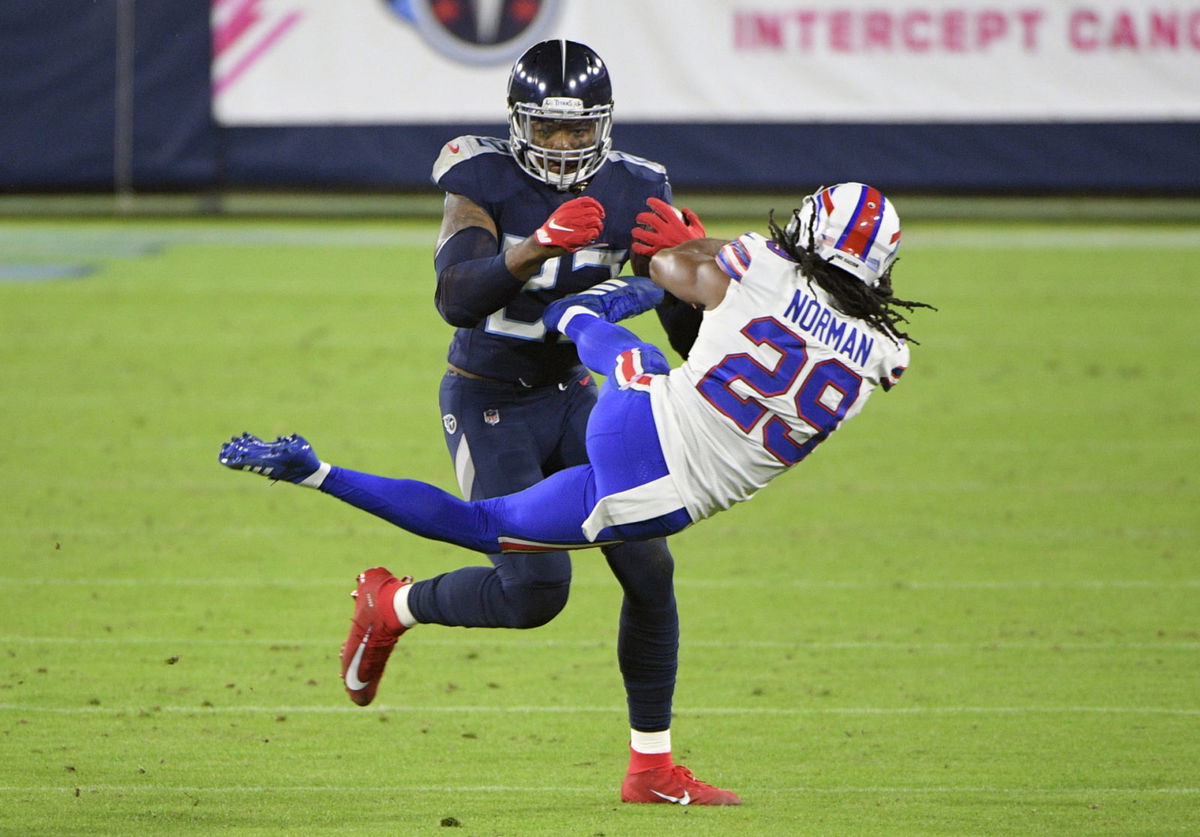 Mike Vrabel's Tennessee Titans continued their blaze of glory in the NFL in Week Five. Fun fact, the Tennessee Titans vs Buffalo Bills clash was the first Tuesday night NFL game since 1946.
Along with the home team, the Buffalo Bills also entered the tie as 'undefeated' in 2020. However, the Josh Allen-led Buffalo Bills suffered their first loss of the season at the hands of a determined Titans outfit.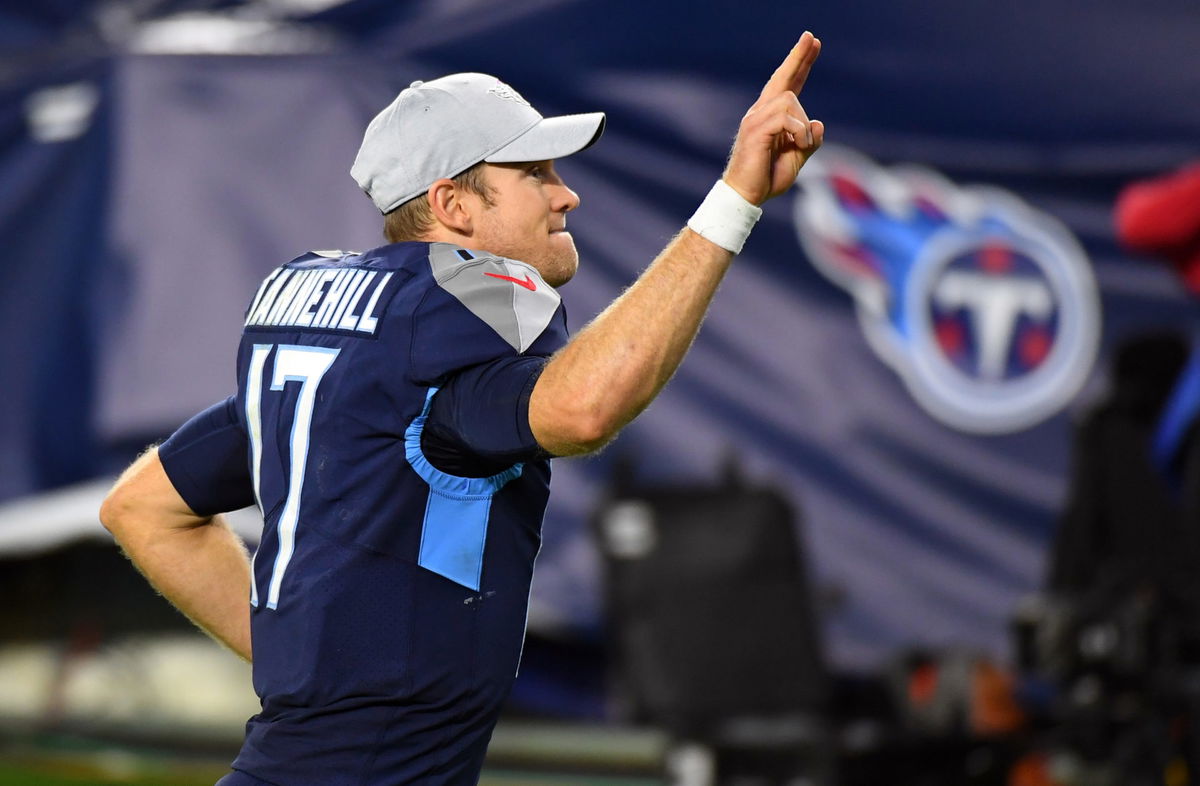 Experienced NFL quarterback, Ryan Tannehill, along with star running back Derrick Henry were the two standout performers for the Titans in Week Five. Together, they led the home team to a convincing 42-16 win over the Bills last night.
ALSO READ- "DK Metcalf is the Best in the World" – Russell Wilson Raves on About Star Wide Receiver
Derrick Henry, Ryan Tannehill impress as Tennessee Titans annihilate Buffalo Bills
DERRICK HENRY JUST RAGDOLLED JOSH NORMAN 😳

(via @NFL)pic.twitter.com/OaVuWNiXKi

— Bleacher Report (@BleacherReport) October 14, 2020
Henry grabbed headlines after his incredible one-hand stiff-arm maneuver completely crushed Bills defender Josh Norman. 'King Henry' brushed aside Norman with one swift move of his hand.
Norman was tossed to the ground and surely learned his lesson when it came to tackling the devastating Derrick Henry.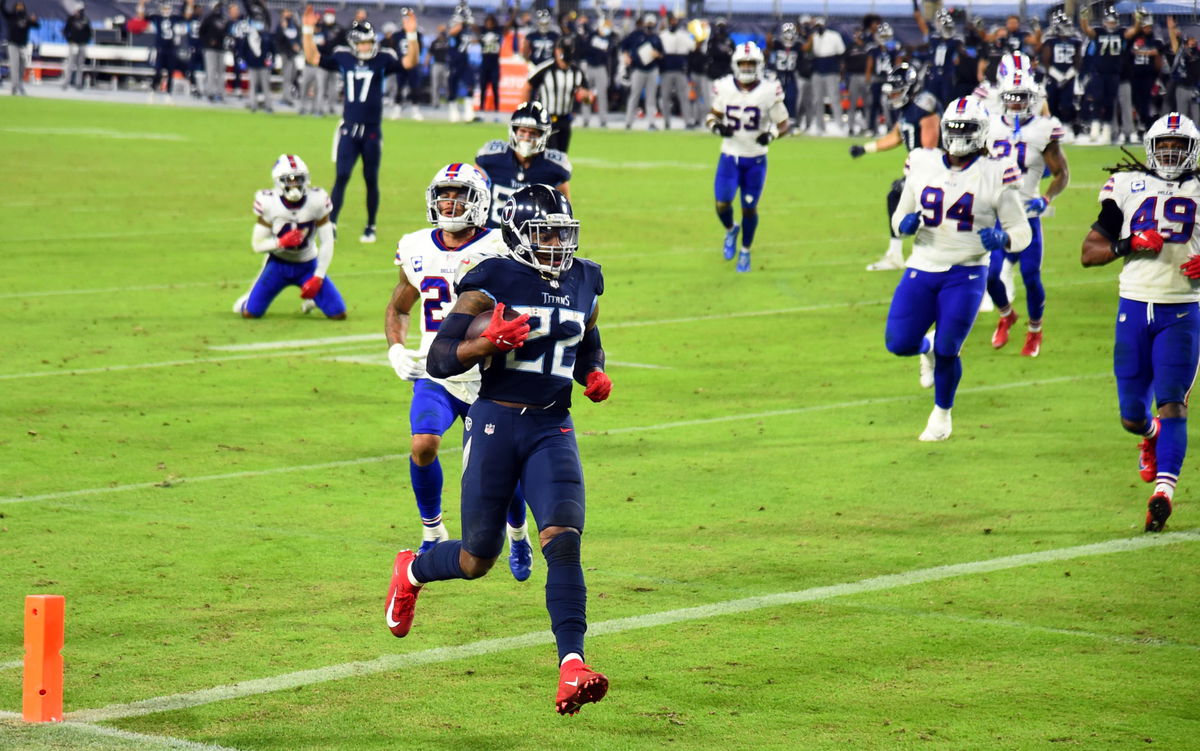 Henry rushed for 57 yards and had 2 rushing TDs against the Bills. He provided great offensive support to Tannehill, who was enjoying a brilliant individual game himself.
The 32-year-old quarterback threw for 195 yards and registered 3 passing TDs against 0 interceptions on Tuesday night.
Netizens react to Henry's monstrous showing against the Buffalo Bills
Josh Norman after Derrick Henry's stiff arm: pic.twitter.com/ACnUwUEqt3

— SportsCenter (@SportsCenter) October 14, 2020
derrick henry might have sent josh norman to the astral plane pic.twitter.com/qr3LACyUFe

— CBS Sports (@CBSSports) October 14, 2020
Josh Norman, after trying to tackle Derrick Henry #BUFvsTEN pic.twitter.com/2xzv4t79nc

— NOTSportsCenter (@NOTSportsCenter) October 14, 2020
Derrick Henry…. pic.twitter.com/mm69GG41Q6

— Kimberley A. Martin (@ByKimberleyA) October 14, 2020
That stiff-arm by Derrick Henry on Josh Norman was disrespectful! Makes me think of a saying my WR coach in college used to use in that situation. "Son, call the 1-800 number because you just got violated!"

— TURRON DAVENPORT (@TDavenport_NFL) October 14, 2020
Derrick Henry to Josh Norman #Titans pic.twitter.com/Zi0fwNrPeg

— Elijah Campbell (@E_Campbell3) October 14, 2020
The Titans remain undefeated in the league after four games. Head Coach Mike Vrabel will be delighted by how his team has done so far, especially after their recent COVID-19 struggles.
Quarterback Ryan Tannehill will look to maintain this winning streak in the coming weeks as the Titans aim to make the Playoffs once again.
The Nashville-based franchise play the Houston Texans and the Pittsburgh Steelers over the next two weeks. Coach Vrabel will be hoping to maintain their unbeaten run.
We can't wait to watch Derrick Henry tossing defenders around next week; hopefully, he doesn't injure anyone. Defenders beware!
ALSO READ- "Hope Dak Prescott Gets $500 Million"- Logan Ryan's Word of Support to Cowboys Quarterback