NFL Twitter Reacts to Heisman Finalist Kenny Pickett's Hands Measuring 8 1/2 Inches During NFL Combine
Published 03/04/2022, 4:30 PM EST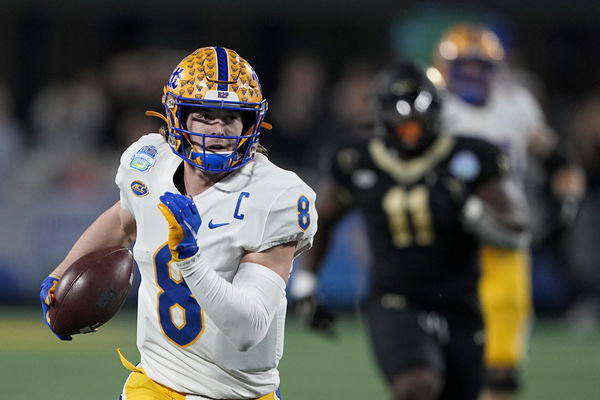 The piece of information that many of the NFL fans were waiting for is finally out! The Pittsburgh Panther's QB Kenny Pickett finally measured his hand size, and it came out to be 8 1/2 inches. Why is it seeking so much media attention? Well, it is not considered as an ideal measurement for an average quarterback in the NFL.
ADVERTISEMENT
Article continues below this ad
Earlier, Pickett has revealed in several media interactions that the measurement of his hands is the talk of the town. The media exaggerates the announcement as a topic of conversation, more than his team, Pittsburgh Panthers. Needless to say, the Twitter world erupted with funny memes and jokes once the news got revealed.
ADVERTISEMENT
Article continues below this ad
Kenny Pickett's hand size a matter of concern?
Well, the quarterback is not at all concerned about his hand size and has zero apprehensions about his selection. The projected first-round pick says, that he is not even worried about the NFL teams considering to rope him in the upcoming NFL Draft. What matters is the quality of the game he offers. And no doubt, Pickett is the best!
The number you've all been waiting for:

QB Kenny Pickett: 8 1/2" hands

— Dane Brugler (@dpbrugler) March 3, 2022
This is a long-going tradition, where the quarterbacks weigh their body mass and measure hand size during the NFL combine. It is scaled from the tip of the thumb, across the outstretched hand to the tip of the pinky finger.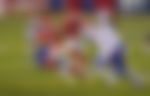 And this 23-year-old QB made his turn by announcing his last check for the media & fans out there. Indeed, the Twitter world got what it needed and they took full advantage of it. Here's how Twitter reacted:
Maybe it's the footballs that are too big?

— Citizen Chug (@CitizenChug) March 3, 2022
He's going to have to throw the ball with two hands in the NFL.

— Kevin Lawrence (@kalawrence9) March 3, 2022
So you're saying he wears big gloves?

— Todd Mone (@twm825) March 3, 2022
Idc. I'll still take him over Heineken. Come to Washington KP!

— PacMan (@PacManOriginal) March 3, 2022
Pickett had 26 fumbles in college

— Kenneth Booker (@KennethMHH) March 3, 2022
ADVERTISEMENT
Article continues below this ad
Kenny Pickett is a Phoenix
Previously, Pickett denied getting his hands measured during the Senior Bowl in February and declared to wait until the NFL scouting combine. And this had gained a lot of media attention onto why is he doing this? The QB was scheduled to run for 40- yards trials and participate in other activities on Thursday. That's when the official announcement of his hand size came, also it is to be noted that he has a double-jointed thumb.
ADVERTISEMENT
Article continues below this ad
However, all these measurements just stay to be statistical data and fancy requisites. Pickett, at a very young age, has achieved so much that others could only imagine. The QB has completed 67.2% of his passes for 4319 yards and 42 touchdowns so far, with a whole NFL career still ahead of him.
Watch the story – College Quarterbacks Who Will Light Up the NFL Draft 2022