Tyreek Hill Visits Diehard Kansas City Chiefs' Fan In Hospital; Gets Credit For Saving His Life
Published 10/09/2021, 9:18 AM EDT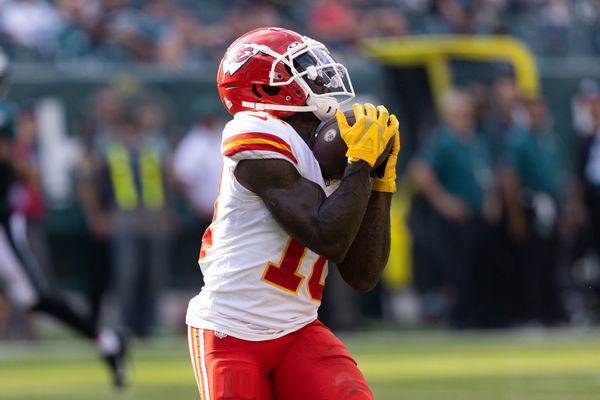 ---
---
Tyreek Hill with his insane 186 yards covering and three touchdowns against the Eagles last week used to be the kind of performance that Louie Brewer always boasted about on a group chat with fellow Kansas City-area bounty hunters.
ADVERTISEMENT
Article continues below this ad
But the Chiefs haven't heard of the ever-enthusiastic Brewer ever since Hill's biggest regular-season game last year against the Tampa Bay Buccaneers. His bounty hunter friends later found him lying in his home unconscious and almost lifeless due to a stroke for five days.
ADVERTISEMENT
Article continues below this ad
Tyreek Hill cheers up Brewer
Brewer had difficulty speaking since then but when couldn't hold but say "Chiefs" as his first word last week. "I had already seen it on Twitter because all of the guys shared it in our group chat," Hill said, talking about the bedridden Chiefs' fanatic.
And so on Tuesday Hill, during his return to Kansas City after a memorable win against the Philadelphia Eagles, took the moment to visit Brewer in the Overland Park facility. Adorned with Chiefs gear all around, his room certainly giving an impression that he's literally a diehard Chiefs fan.
"The catalyst for us checking on him was us not receiving a text, and the crazy thing about that is the Cheetah just kind of downplayed that. He was so nonchalant, he was a human. He wasn't looking for accolades, he was there for Louie," Brewer's guardian, friend and fellow bounty hunter Rodney Jarrett said.
ADVERTISEMENT
Article continues below this ad
Wishing Brewer a speedy recovery
Seeing Tyreek left the Chiefs fan utterly flabbergasted. However, he couldn't muster a word because of his condition. But, they still ended up having a good time. Hill sarcastically asked Brewer if he could beat Usain Bolt, to which the fan replied with a nod.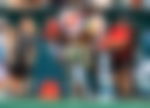 Before departing, Hill signed a jersey and a hat with the understanding that Brewer will wear it to a game as soon as he's well enough. However, Brewer has to have a long recovery, but the Chiefs receiver hopes he could get back with the same zest that he used to show before.
ADVERTISEMENT
Article continues below this ad