Unearthed Video of Young Tom Brady Getting His Helmet Smashed & Taking a Hectic Sack Goes Viral – "In Today's NFL Might Land You in Prison"
Published 10/10/2022, 11:00 AM EDT

Follow Us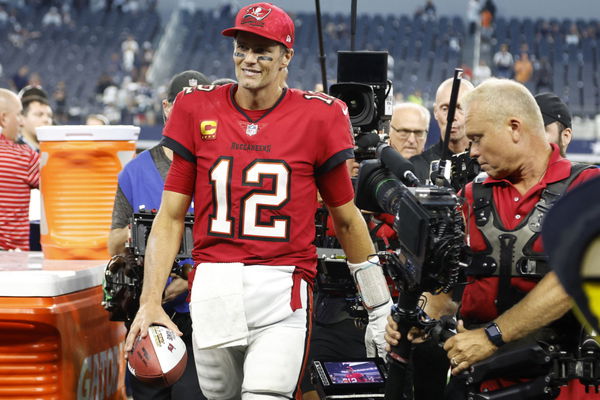 Fans often accused the NFL and the referees of being too soft regarding calls on the quarterbacks. According to many fans, the quarterbacks get more protection than other players on the field. Particularly, Tom Brady, who often gets calls from the referees, and people call him "soft" because of that.
Recently, a video surfaced on social media, where Brady took a massive sack in the early days of his career. After seeing this video, many fans on Twitter praised TB12 and blamed modern-day football.
ADVERTISEMENT
Article continues below this ad
NFL fans hail Tom Brady for taking a big sack in an old video
Earlier, a Twitter user shared an old video where Brady took a massive sack during a game between New England Patriots and the Buffalo Bills. In the caption, the Twitter user wrote, "Hitting Tom Brady like this in todays NFL might land you in prison."
After seeing this video, many fans agreed with the Twitter user's comments, as one fan talked about people getting executed.
Prison?? Nah son you getting executed on sight. There's prolly 4 snipers awaiting in the rafters for anything that pop off involving Tom https://t.co/rfCAyMy6eB

— Tyrion (@wHHySoSeRi0us) October 10, 2022
Another fan felt players could get suspended for a tackle like that in this current era of the NFL.
One person on Twitter posted a WWE gif to express his opinion.
One Twitter user wished that someone would tackle him like this.
One person on Twitter had other things in mind, as he was comparing the broadcasting quality.
Another person felt the current broadcasting quality is far better.
Why this footage look like it's from the 80s HD really changed the game

— Kyle (@Kylito456) October 9, 2022
Many Twitter users praised Brady for taking that sack head-on.
One fan on Twitter thought Brady played when the football was real.
He can't really be called soft cause he did play when it was real real

— Sciz (@sciz872) October 9, 2022
One other fan thought Brady can't be called 'soft' after that play.
Right can't ever call the goat soft

— Jermain D. Thompson (@TXOverdose) October 9, 2022
Some fans praised the quarterback's longevity in the NFL.
What's even crazy is that Brady been playing since games looked like NES 64 pixel art and now games in 4k lmao

— 優木せつ菜 (@nijigasakilove) October 10, 2022
Meanwhile, a fan blamed the NFL for changing so many rules nowadays.
91 Joe Montana gets a broken hand, cracked ribs and concussion in one sack from the giants in the playoffs. Fast forward to today's game with Brady getting wrapped up and the defenceman getting a flag.. Smh NFL

— Carlo D (@Carlo_DeD) October 9, 2022
ADVERTISEMENT
Article continues below this ad
Some fans also praised the tackle by the Buffalo player, as it's kind of rare in the NFL right now. It is worth noting that Tom Brady has been playing football for nearly 23 years after getting drafted by the Patriots back in 2000.
ADVERTISEMENT
Article continues below this ad
Since then, he has won 7 Super Bowl titles, more than any player in the history of the NFL. As a result, many fans call him the 'GOAT'. After the last season, he announced his retirement from professional football; however, he made a U-turn on his retirement and came back to the Bucs team to play in the 2022-23 season.
Watch This Story: News reports suggest Tom Brady is not looking for an ugly divorce after epic fight with Gisele Bündchen 
Edited By: Gurjyot Singh Dadial