Unfazed Aaron Rodgers Rates 'Peace of Mind' Above Everything Else Amidst Retirement Rumors
Published 03/14/2023, 3:44 AM EDT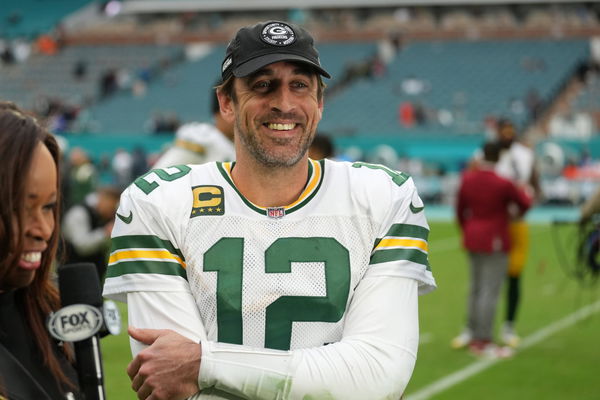 Aaron Rodgers' unconventional lifestyle choices and recent "darkness retreat" have kept him in the spotlight, but it's his uncertain career that's generating the most buzz in the NFL world. After dedicating 18 years to the Green Bay Packers, Rodgers' uncertain future is causing concern and sparking discussions among fans and experts alike. Despite the scrutiny, the four-time NFL MVP isn't easily swayed. In fact, he recently shared a powerful tool he uses to remain unfazed by the constant criticisms and uncertainties surrounding him.
Aaron Rodgers says that peace of mind is a powerful tool
During the game at the RX Flag football charity event league in California, I Am Athlete's Brandon Marshall met up with Aaron Rodgers for a quick chit chat. When Marshall asked the 39-year-old quarterback about how he handles being misunderstood by fans and the public. In response, Rodgers calmly stated that it doesn't have a significant impact on him. He emphasized the importance of finding inner peace to combat negativity and block out unnecessary noise from society.
ADVERTISEMENT
Article continues below this ad
Rodgers said, "The peace of mind allows you to not care so much about that because I think we all really care about how we're viewed. So it's not that we don't care about what people say, it's which people? Which people do I really care about what they say? It's the people in my inner circle. It's the people that I care about. Those opinions I really care about. And the other ones, they honestly don't really matter cause they have nothing to do with me. When I'm at peace about that, the rest is just noise."
ADVERTISEMENT
Article continues below this ad
Despite mentioning that he would shed light on his future in the NFL and with the Packers after his 'darkness retreat', Aaron Rodgers has yet to provide any hints about his plans, leaving fans in the dark as the days go by.
A-Rod's final chapter in the making
While the New York Jets have made their interest to acquire the QB known, Rodgers has not made a conclusive decision for himself. He feels that the darkness retreat has helped him introspect his own life and childhood trauma over the years. He feels that after a long career with football, introspection is helping him heal from childhood trauma and come out as a better human being. This update comes in the midst of retirement rumors surrounding the superstar QB in recent times. 
ADVERTISEMENT
Article continues below this ad
Fans can expect to hear from Rodgers by Wednesday before the deadline. Until then, they will remain at the edge of their seats for the conclusion of this A-Rod saga.
Watch this story: Breaking down the most likely landing spots for Aaron Rodgers if he leaves Green Bay Packers
Edited By: Abigail Kevichusa