Upbeat Jackson Mahomes "It's Time to Start Packing" Tweets Make Fans Say "Sit This One Out"
Published 02/08/2023, 4:53 AM EST

Follow Us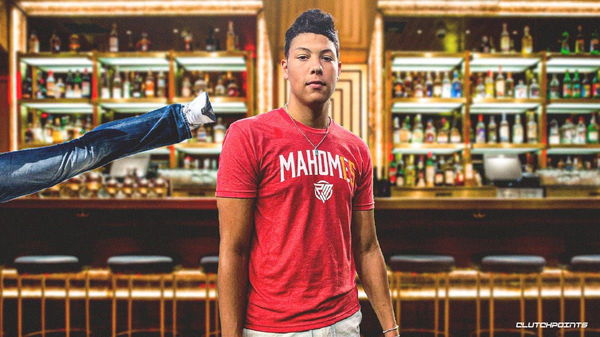 Patrick Mahomes is gearing up to lead the Kansas City Chiefs out on Super Bowl Sunday. They will face Jalen Hurts and the Philadelphia Eagles. And along with the NFL world, the Chiefs QB's brother Jackson Mahomes is understandably upbeat. But his recent tweets have made the fans ask him to sit this one out.
Jackson is known for his antics and TikTok videos at the Chiefs games. But some fans do not want to see all that and have made their feelings clear.
Fans ask Jackson Mahomes to sit the Super Bowl out
ADVERTISEMENT
Article continues below this ad
Jackson Mahomes is getting ready to cheer for his brother Patrick Mahomes at the Super Bowl on Sunday. And he is already packing for the trip to Arizona. "It's time to start packing for Arizona," Jackson tweeted about the big day.
The NFL world is clearly divided after Jackson's tweet with some fans pumped up to see the Chiefs QB's brother in his element on Sunday. But others have explicitly told him to "sit this one out". Here are a few fan reactions from both sides of the spectrum.
A Chiefs fan wants Jackson to yell his lungs out for the Kingdom.
Have fun and yell your lungs out at the game For The Kingdom!!

— Mike Romero (@Miggy0907) February 7, 2023
This fan wants to know about the dress code of Jackson Mahomes for the Super Bowl.
I can't wait to see you out there bro what are you gonna wear?

— Niko (@Niko34489728) February 8, 2023
But this fan wants Jackson to sit this one out.
Maybe you should sit this one out.

— TheButcher854 (@thebutcher854) February 8, 2023
Another fan wants the same but has this to say if Jackson does go to Arizona.
Stay home but if you have to go wear an Eagles Jersey!

— . (@KcSports816) February 7, 2023
Stay home. Your brother doesn't need you

— Mike Brenon (@brenon_mike) February 7, 2023
This fan asked Jackson to have fun and be safe.
Yessir have fun and be safe go Chiefs❤💛

— Russ C Giles Chiefs Ride 4 Life We Taking It Back (@RussGiles39) February 7, 2023
Another fan thinks Jackson will embarrass his brother.  
Don't embarrass ur brother

— Monica Villanueva (@margaritamv0521) February 8, 2023
Jackson Mahomes has grown big on social media and has a strong presence on platforms like Instagram and TikTok. And he teams up with Patrick's wife Brittany to make videos cheering for his brother. While some fans love what he does, others find it annoying. What nobody finds annoying is the form that Patrick has shown throughout the season.
ADVERTISEMENT
Article continues below this ad
The unstoppable Patrick Mahomes
Patrick Mahomes had proved himself in the NFL since coming onto the scene in 2017. The QB led the Chiefs to a Super Bowl win in the 2019 season. And fast forward to the 2022 season, Mahomes is gearing up for his third Super Bowl appearance in four years. What a run he's had.
ADVERTISEMENT
Article continues below this ad
Mahomes has put up MVP level numbers this season. He led the entire NFL in passing yardage and touchdown passes during the regular season. And he played through an injury in the playoffs to take the Chiefs to the State Farm Stadium. Can he take the Chiefs past the Eagles to lift the Vince Lombardi trophy on Sunday?
WATCH THIS STORY: Tom Brady calls Kansas City Chiefs superstar Patrick Mahomes overrated