VIDEO: Green Bay Packers Wide Receiver Breaks Rob Gronkowski's World Record Catch
Published 07/17/2021, 10:25 AM EDT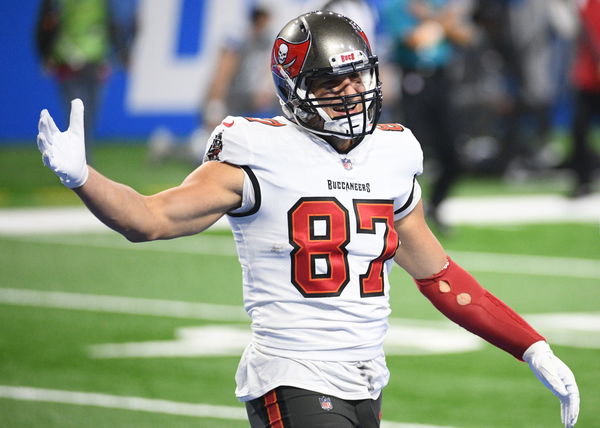 ---
---
Rob Gronkowski has achieved incredible success during his time as a tight end in the NFL. A four-time Super Bowl champion, Gronkowski has evolved into a superstar over the years for his dominant play and off-field theatrics.    
ADVERTISEMENT
Article continues below this ad
A handful to play against, Gronkowski has equally dominated headlines for his rockstar lifestyle. But there is one thing about Gronk that seems to be overshadowed. The fact that he is a world record holder. Or rather, was.
While Gronk is no stranger to setting records, this one was rather special to the tight end. Earlier in this offseason, Gronk had travelled to his alma mater, the University of Arizona, before a spring game. 
ADVERTISEMENT
Article continues below this ad
And on that fateful day, Gronkowski made the record-setting catch. Catching a pass dropped from a helicopter 600 feet above, Rob Gronkowski officially entered his name in the Guinness Book of World Records for making the 'highest altitude catch'.
Gronk's record though didn't last long. While it's not official yet, a recent video shows Green Bay Packers wide receiver Devin Funchess make a catch from ever higher!
Rob Gronkowski might be back to claim record  
Funchess broke Rob Gronkowski's record at the Denver Broncos stadium while attending a charity event. And part of that event was trying to break Gronk's record.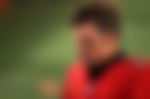 In the now-viral video, Devin Funchess was seen in his household slippers as he attempted to make the catch. With the ball from a helicopter 750 feet above, Funchess had a hard time at first trying to make the catch.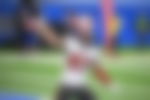 Missing a number of times, the Packers wideout though did not give up. And finally, after multiple tries, he landed that catch which broke Rob Gronkowski's world record. 
ADVERTISEMENT
Article continues below this ad
While the crew says that Funchess' catch was indeed from a higher altitude than Gronk. However, for it to be official, the Guinness World Record team must certify the catch. 
ADVERTISEMENT
Article continues below this ad
So if Devin Funchess is reading this, it's time to try calling some folks over at the Guinness HQ right away.