Vikings WR Superstar Justin Jefferson Reflects on his Road to Second Consecutive Pro Bowl
Published 12/21/2021, 10:45 AM EST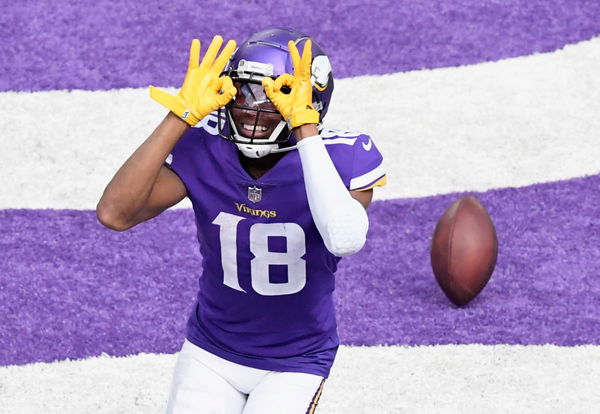 ---
---
Justin Jefferson is a name that can be heard a lot from every Vikings and NFL fan this year. The rookie wide receiver is clearly on his way to becoming a Minnesota Vikings legend. The 22-year-old wide receiver has taken over the league by storm.
ADVERTISEMENT
Article continues below this ad
In just his second season, he has reached superstardom after he surpassed previous Vikings legends. Jefferson has been very impressive in both of his seasons in the NFL. The rookie wide receiver is just starting up. He has a lot more to give. He has been selected for his second Pro Bowl in a row. 
Justin Jefferson's record-breaking second season
ADVERTISEMENT
Article continues below this ad
Jefferson was the 22nd overall first-round pick by the Minnesota Vikings in the 2020 NFL draft. Justin wasted no time before he made an impact on the field. The rookie made his debut in Week 1 of that year against the Green Bay Packers. He hasn't stopped since. 
In that game, he made two receptions for 26 yards. Justin Jefferson stated his first game in Week 3 against the Tennessee Titans. Even though the Vikings lost that game, Jefferson had a good showing. He Made seven receptions for 175 receiving yards and scored a touchdown. By the end of the season, Justin Jefferson showed everyone that he was here to stay. He was selected in the Pro Bowl in his first season.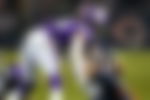 Earlier this season, Justin made history. He bagged more yards than any Vikings player. Before Jefferson, the record belonged to Sidney Rice, who had 553 yards in four games in 2009. Before Rice was Chris Carter with 537 yards in the 1999 season. This season Justin Jefferson made 577 yards outshining every player in Vikings history. 
The legendary Randy Moss welcomes Justin Jefferson to his second straight Pro Bowl
Justin Jefferson wore an old Randy Moss jersey at Soldier Field last night. Jefferson had just gotten news from Moss himself that they have selected him in the Pro Bowl for the second time.
ADVERTISEMENT
Article continues below this ad
After the game against the Browns, Jefferson reflected on his journey. He said, "That's a dream to mine." He adds, "Having my second consecutive year being in Pro Bowl is definitely an honor for me, and then you know, pre-game with Randy, that was special. I don't really talk to Randy that much, so being able to be with him and throw a catch to him, talk to him, that was cool." 
ADVERTISEMENT
Article continues below this ad
Justin Jefferson joins the likes of Randy Moss and Sammy White. These three are the only Vikings wide receivers who made the playoff in both of their first seasons.