Von Miller Contract Details; How Much Will He Earn at Buffalo Bills?
Published 03/17/2022, 11:00 AM EDT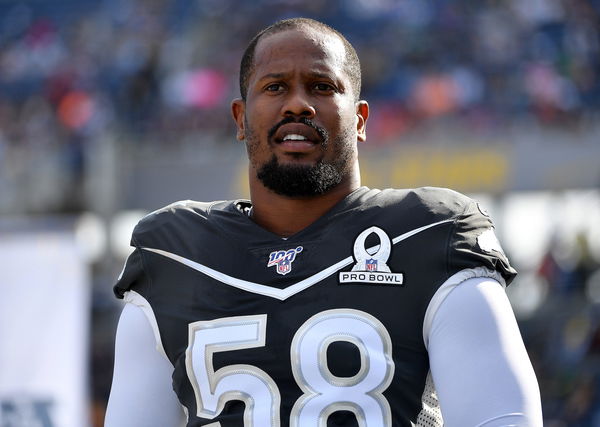 Von Miller is getting back on course after knocking free agency. The Super Bowl LVI-winning athlete nailed prodigious prosperity with his 2021 run in the LA Rams. Currently, he is the newest addition to one of the NFL's most brawny teams, the Buffalo Bills, having a massive contract with the plan to stay there for a while. But did the contract burn a big hole in the pockets of the Bills franchise?
ADVERTISEMENT
Article continues below this ad
The destiny of Von Miller influenced a couple of franchises' plans this week. Moreover, his ultimate destination astounded the entire football community. Despite the Bills' enormous investment in defensive ends in the previous two selections, Miller emerges as the team's greatest pass rusher right away.
ADVERTISEMENT
Article continues below this ad
Von is not the only athlete heading to the Bills, as the Bills also bolstered on their offensive line, signing Buccaneers tight end O. J. Howard.
Full Details: Von Miller and his deal with the Buffalo Bills
According to ESPN's Adam Schefter, Miller's contract is for $120 million. It includes $51.5 million in guarantees, with $45 million completely guaranteed at signing.
Corrected: Von Miller's six-year deal with the Buffalo Bills includes $51.5 million guaranteed, including $45 million fully guaranteed at signing, per sources. https://t.co/Ru5SnYnl2D

— Adam Schefter (@AdamSchefter) March 16, 2022
The Bills also added the seasoned tight end they were hoping for, signing to a one-year deal with former Tampa Bay Buccaneers tight end O.J. Howard. According to Schefter, the agreement is around $3.5 million and might be worth up to $5 million.
Von Miller spent a decade with the Broncos after being picked second overall in 2011. He was named MVP of Super Bowl 50 in 2015 after helping Denver win its third Super Bowl in franchise history.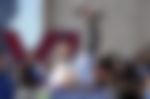 He had 11 tackles and 4 forced turnovers, 3 of which he recovered. It compelled rival offense units to leave Miller with only one blocker on the outside because the great defensive lineman demanded much more emphasis.
A big breakthrough for the Bills?
ADVERTISEMENT
Article continues below this ad
Miller's contract with the Bills is a huge one for the athlete. At his best, the eight-time Pro Bowler and three-time first-team All-Pro was an exceptional edge rusher. However, ailments have slowed him recently. Miller's move to Los Angeles made little a difference during the regular season, but his outstanding performance in the Rams' Super Bowl LVI victory put him back on the radar of teams looking for pass rushers.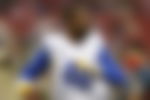 Buffalo was the team that made the most effort to sign the potential NFL Hall of Famer, and the Bills hope that his talents can help them go over the encumbrance and then into the Super Bowl.
ADVERTISEMENT
Article continues below this ad
In 15 games with the Broncos and Rams in 2021, Von has 50 tackles, 19 tackles for loss, 9.5 sacks, and one forced fumble. Although it is reasonable to speculate that Miller is past his peak; he is a proven postseason performer, who was nonetheless profitable in 2021. For the Bills, Miller can bring linebacker skills to the company as they try to compete in a fierce conference game.
Watch this story: Colin Kaepernick says he has been working out for a potential NFL return after a five-year absence