Was Kansas City Chiefs vs Green Bay Packers the Worst Game of the 2021 NFL Season?
Published 11/08/2021, 3:23 AM EST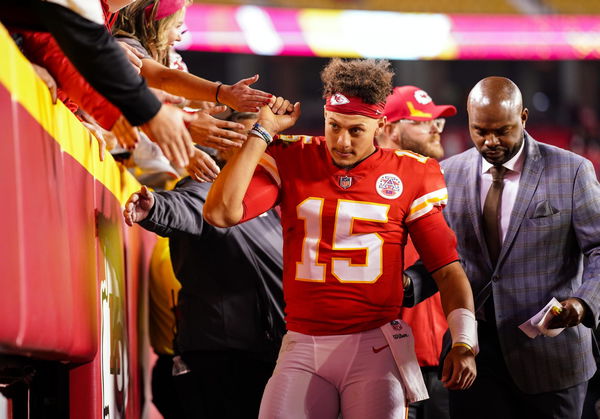 ---
---
Ever seen a game that's so bad it becomes entertaining. That's what most people felt when they watched the recent edition of Green Bay Packers vs Kansas City Chiefs. The battle between these two heavyweight dissolved into a battle of who would make the least mistakes. Given their form, the Chiefs emerged victorious surprisingly, but only by making lesser mistakes than the Packers.
ADVERTISEMENT
Article continues below this ad
Why was Packers vs Chiefs the worst game of the season?
ADVERTISEMENT
Article continues below this ad
First, we did not get to see two of the best quarterbacks of this generation square up. Anticipation reached its fever pitch before Aaron Rodgers' positive COVID test. He has only himself to blame, but Patrick Mahomes could've taken this opportunity and ran with it. Instead, he put on another mediocre performance.
The Chiefs failed to score a bundle of points once again, managing to put fourteen on the table. But for the Packers, Jordan Love had a nightmarish debut. He did not have any chemistry with wide receiver Davante Adams, and struggled to make completions. His throws were inaccurate and his performance left a lot to be desired.
What is wrong with our quarterback?

— Arrowhead Pride (@ArrowheadPride) November 8, 2021
While the fixture featured tons of mistakes and shortcomings, it had one major positive. Kansas City Chiefs received a lot of flak for their horrible defense. Even with the likes of Tyrann Mathieu and L'Jarius Sneed and more, their defense has been nothing short of miserable. Patrick Mahomes has even outright said he has been trying to cover up for defensive mistakes on the offensive side of things.
This seemingly changed against Green Bay Packers, as the Chiefs' defense looked reinvigorated. If they keep up this form, they will once again look like a side who can challenge for the Super Bowl. As for the Packers, this game showed just how badly they need Aaron Rodgers in their side. Without him, they simply crumble and get absolutely pasted.
Can Kansas City Chiefs qualify for the playoffs?
ADVERTISEMENT
Article continues below this ad
Make no mistake, this performance was in no way the performance a postseason contender puts on. Instead, it looked more like a high school football game with multiple turnovers. But with this win, Kansas City Chiefs have made their claim for a playoff appearance, and are closing in on the top spot.
Currently, they sit third in the AFC West, behind Los Angeles Chargers and Las Vegas Raiders. While the Raiders have seen a bit of a slump lately, an early win against the Chiefs has given the Chargers a decent shot in the arm. With five wins and three losses, they look set to qualify for the playoffs.
ADVERTISEMENT
Article continues below this ad
As for Denver Broncos, they have matched Kansas City's record of 5-4 with a win over Dallas Cowboys. Now, the Chiefs will need to win all their games, including a sequel to their clash against the Chargers. However, two games against the Raiders are yet to come, and the Chiefs need to silence them in order to qualify. Things are looking bright for Patrick Mahomes and Co, and it all comes down to how they perform.