Washington Football Team QB Taylor Heinicke Shockingly Finds Possible Weapon on Field
Published 12/13/2021, 5:50 AM EST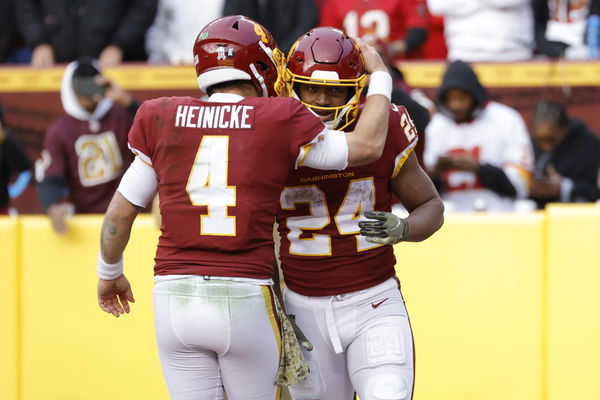 ---
---
What are the kind of things one can find on a football field? Goalposts, yard lines, end zones, and football players. What you might not expect to see is a pair of scissors. Taylor Heinicke, the quarterback of the Washington football team found just that as he walked off the field last night.
ADVERTISEMENT
Article continues below this ad
Taylor Heinicke finds scissors on the ground
Last night was the week 14 bout between the Washington Football Team and the Dallas Cowboys. The Cowboys won the game 20-27. During the contest, Taylor Heinicke was injured. After being hit on a play in the fourth quarter, he required medical attention. The trainers were taking Heinicke off the field. A somewhat unusual thing caught the quarterback's eye as the medical professionals walked him off the field.
ADVERTISEMENT
Article continues below this ad
The 28-year-old spotted a pair of scissors and quickly picked it up. It wasn't a teeny-tiny pair for cutting paper or tape. The pair Heinicke found were big heavy-duty scissors. The trainers usually carry scissors like these. Maybe one of the trainers dropped it on his way while on his way to check on Taylor. If not, it would be a great mystery.
Did a fan throw it on the field? Were they there all the time? It is good that Taylor Heinicke found it before anyone made a play around the scissors. It could have seriously hurt someone.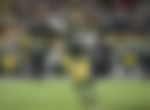 If the trainers really dropped it, they need to be more careful. In a game as physical as football, some gruesome injuries had happened in the past. If something as dangerous as a giant pair of scissors is lying around the field, it could impale a player and possibly cost a life. 
Scissors found on a field again this season
We have seen this unusual object on a field once before as well. Last month, a Sunday night football match was played between Kansas City Chiefs and Las Vegas Raiders. During the game at the Allegiant Stadium in Las Vegas, they found a pair as well. It was the same kind of scissors.
ADVERTISEMENT
Article continues below this ad
What's more shocking is that a play was about to be made over it. The Raiders defensive tackle Quinton Jefferson stopped the play and got it removed from the field before anybody was harmed. An unattended sharp object laying on the field is a serious safety hazard.
ADVERTISEMENT
Article continues below this ad
The NFL trainers need to be more careful with what they carry around.