WATCH: Aaron Donald Emulates Michael Jordan's Iconic Shrug After Sacking Kyler Murray
Published 12/16/2021, 8:37 AM EST

Follow Us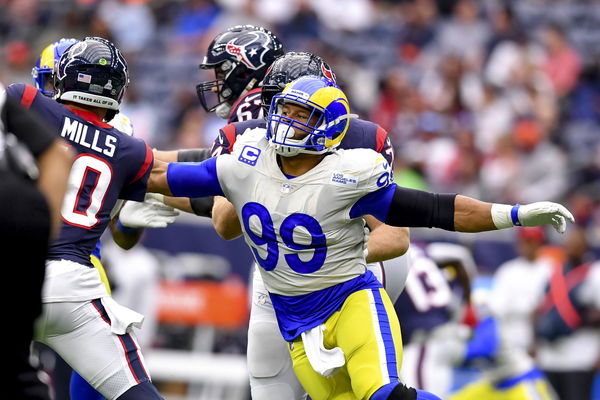 As kids, we all want to be just like our heroes. Everybody has a person they look up to, someone who inspires them. No doubt, Michael Jordan was the hero for most of the 90's kids. The Los Angeles Rams defensive end Aaron Donald is no different. Just like most people who grew up in the '90s, Donald admired Michael Jordan.
The iconic Jordan shrug
Back in 1992, the Chicago Bulls were playing Portland Trail Blazers in the NBA finals. The stage was set, and the pressure was on. It was the Bull's 26th NBA season. Chicago was the defending champion after defeating the LA Lakers in the finals last year. Michael Jordan was especially on fire that year as he won his second MVP of the year award in a row. He also won his sixth straight scoring title. 
ADVERTISEMENT
Article continues below this ad
In the finals with Portland, Michael showed everyone why he deserves the nickname Air Jordan. He was flying all over the basket court that night. In the first half, Jordan made six 3-pointers. This was an amazing performance by the man. He broke the record for most points in the first half. After making the basket for the sixth time, Jordan shrugged his shoulders. He made it look so easy. This gesture became the iconic Jordan shrug.  
ADVERTISEMENT
Article continues below this ad
Aaron Donald does the Jordan shrug
The LA Rams defender has been compared to Michael Jordan a lot. ESPN's Ryan Clark called Donald "the Michael Jordan of Football". In his defense, he has a record to back it up too. Aaron Donald has been named the best player in the NFL network's top 100 list. The 2014 first-round draft pick has won the Defensive Rookie of the Year award. He has also been named the AP NFL Defensive Player of the Year three times. 
ADVERTISEMENT
Article continues below this ad
During the second half of the LA Rams and Arizona Cardinals game last week, Aaron Donald was on defense. The Cardinals quarterback Kyler Murray was hoping to find a teammate to make a play. Things did not go as planned for the QB. Aaron Donald sacked him. After sacking Murray, Donald looked towards the camera and did the iconic Jordan shrug. It looks like Aaron Donald has completely embraced being compared to the GOAT Michael Jordan himself.