WATCH: Baker Mayfield Shakes a Leg During his Oklahoma Sooners Playing Days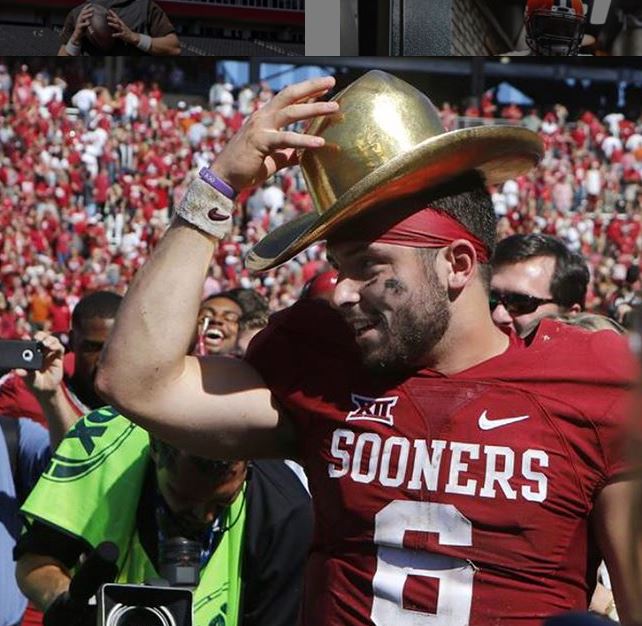 Baker Mayfield broke onto the NFL scene with a strong showing in the 2018-19 season. However, he had a rather underwhelming second year with Cleveland Browns last season. The talented Oklahoma graduate arrived in the league with a reputation that preceded himself. Oklahoma Sooners coach Lincoln Riley is known as the 'Quarterback Whisperer'.
Riley has helped the likes of Baker Mayfield, Kyler Murray and Jalen Hurts make it to the NFL since his appointment as University of Oklahoma coach. Here's a video of Mayfield dancing during his Oklahoma days when he emerged as one of the top college talents ahead of the 2018 NFL draft.
WATCH: Baker Mayfield's dance moves from his Oklahoma days are legendary!
This Baker Mayfield dance clip is legendary. pic.twitter.com/1LL7QG6ZVZ

— ESPN College Football (@ESPNCFB) July 3, 2020
Baker Mayfield truly carved a reputation for himself during his NCAA college career with the Sooners. Legendary dancing skills aside, Mayfield's talent as a top QB was second to none. Between 2015-2017, Baker Mayfield featured in 40 games for the Sooners. The Browns QB completed 119 TDs while crossing the 12,000 mark for rushing yards.
The former Texas Tech player also boasted a 69.8 pass completion percentage. Mayfield won the 2017 Heisman Trophy by a clear majority. The promising youngster bagged 732 first-place votes and ended up with a total of 2,398 points to win the coveted title.
Mayfield playing catch with his father before his Oklahoma debut
Cool moment from 2015.@bakermayfield playing catch with his father in the stands before his first Oklahoma start against Akron.#FathersDay | 📽️ via @TheGreat_Nate pic.twitter.com/pRDXCql62X

— Sooner Gridiron (@soonergridiron) June 21, 2020
What's in store for Cleveland QB Baker Mayfield in the NFL this year?
Baker Mayfield already learning from veteran Case Keenum

📰 » https://t.co/aXUadcL2qP pic.twitter.com/TXJJZ38Jyk

— Cleveland Browns (@Browns) June 3, 2020
Newly-appointed Browns head coach Kevin Stefanski reserves all praise for under-pressure Baker Mayfield. Stefanski said "No. I don't think so. I think I've been very impressed, like I said before, with the work he's put in. He's all ears. He's taking it all in, I think Alex Van Pelt and the coaching staff are really giving him a lot and I don't see any limitations with Baker."
Mayfield will be a man on a mission this year (along with Odell Beckham Jr). The first overall pick of the 2018 NFL draft has 7,552 rushing yards and 48 TDs over two seasons in the NFL. His second season was not as good as his first one which is something he needs to improve upon under Kevin Stefanski this year. Can Mayfield-OBJ lead the Browns to their first playoff game this season?