WATCH: Chicago Bears QB Justin Fields Survives Brutal Helmet-to-Helmet Collision With Vikings Player
Published 12/21/2021, 7:26 AM EST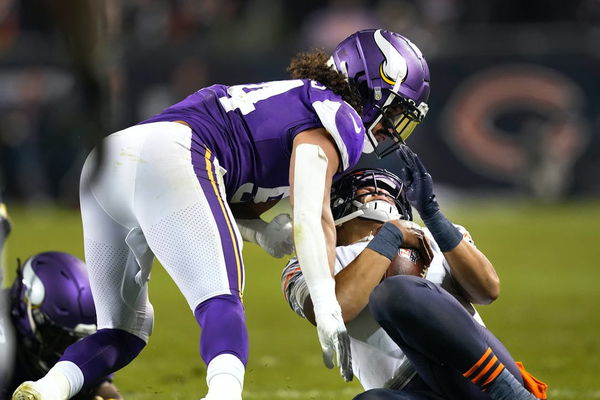 ---
---
Throughout history, we know the Vikings for being hard-hitting warriors. With their ships, the Vikings used to raid Scandinavia and Europe. The Vikings were rough and ruthless. The Minnesota Vikings also seem to bring that attitude to the football field.
ADVERTISEMENT
Article continues below this ad
In a game like a football, you need to be strong, or the other players on the field will walk over you. But of course, a player should always show sportsmanlike conduct. They should only be tough while playing the game. The Vikings' Eric Kendricks took this to another level. He showed the Bears quarterback Justin Fields how hard his helmet is. 
The linebacker collides with Justin Fields
ADVERTISEMENT
Article continues below this ad
Midway through the fourth quarter, the Chicago Bears were on the attack. They were down 17-3. The game has been very rough for both sides, but the Vikings found a way to come out on top. 
With under 10 minutes left, the Bears were looking to make a play. The quarterback, Justin Fields, decided to run with the ball. He took off to make a first down under the 20-yard line. He slid down and was in a sitting position. The Vikings linebacker saw his target. Eric Kendricks felt like Fields was in a vulnerable position, so he decided to rush towards him. By now, Justin Fields has ended his play. But Kendricks felt like the horns on his head were real. He chose to hit Fields in the head with his helmet. Both the helmets collided, and the quarterback was laid down. Many flags were thrown on the field. Eric Kendricks was ejected for unnecessary roughness.
Vikings and Bears moving forward
ADVERTISEMENT
Article continues below this ad
The Vikings won the game with a score of 17-9. It was not the best match ever, but it was entertaining nonetheless. The Vikings currently sit second in the NFC North table with a record of 7-7. Their hopes of making it to the playoffs are still strong.
The same cannot be said for the Chicago Bears. With only four wins his season, their journey has almost come to an end. Things are getting pretty heated this winter in the NFL. Both on and off the field, it is hot for football. It will be really interesting to see where the Vikings go this season. 
ADVERTISEMENT
Article continues below this ad
Are you excited?