WATCH: Denver Broncos Wide Receiver Undergoes an Intense Training Session
Published 06/13/2020, 2:15 PM EDT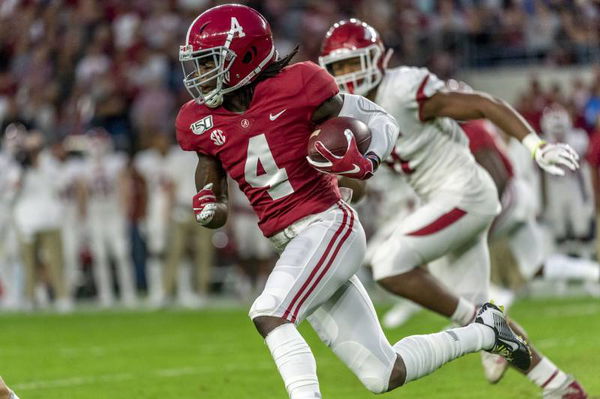 ---
---
Denver Broncos new wide receiver, Jerry Jeudy is understandably pumped to make his NFL debut. Early on in his college career, Jeudy quickly established that he is an absolute beast on the field. The youngster boasts of incredible footwork, like something out of a dance movie.
ADVERTISEMENT
Article continues below this ad
In a recent tweet, the Denver Broncos newcomer displayed his lightning-quick feet in a crazy-looking training regiment. In fact, former NFL wide receiver, Chad Johnson said, "Can i talk football & peculiar skill sets real quick please, it's unfair that Jeudy & Hamler are lining up together, i can confidently say this is the first time I've seen 3 true number 1 receivers on 1 team‼️"
ADVERTISEMENT
Article continues below this ad
The Denver Broncos newcomer really got footloose
Judging from the video, Jeudy is almost like the NFL version of Usain Bolt. Additionally, the 21-year old is eager to link up with Drew Lock for the 2020 season.
ADVERTISEMENT
Article continues below this ad
Jeudy's ability to keep his speed through his breaks and change direction without slowing down seemed biblical to Johnson, which is quite the compliment considering Johnson's acumen as a route-runner.
Jeudy is regarded as a very hard worker and it could benefit the Broncos. Suffice to say, this video is living and breathing proof. Ever since his freshman days Jeudy's work ethic was unmatched.
On multiple occasions, Lock often worked out with teammates and doing throwing sessions. Jeudy and Lock are fierce competitors who know what it takes to succeed.
ADVERTISEMENT
Article continues below this ad
News broke that Jeudy and Lock are doing throwing sessions together and building up to a potential deadly partnership. Lock already formed a strong chemistry with Courtland Sutton, the incumbent number one wide receiver. So, it is safe to say that the same may happen with Jeudy as well
If this chemistry is strong enough to translate from the throwing sessions to the games, the Broncos will be humming with all the pistons firing. The class has been in session and the homework is paying off.