WATCH: Eli Manning Flips a 'Double Bird' on National Television; Issues Apology Later
Published 09/28/2021, 5:29 AM EDT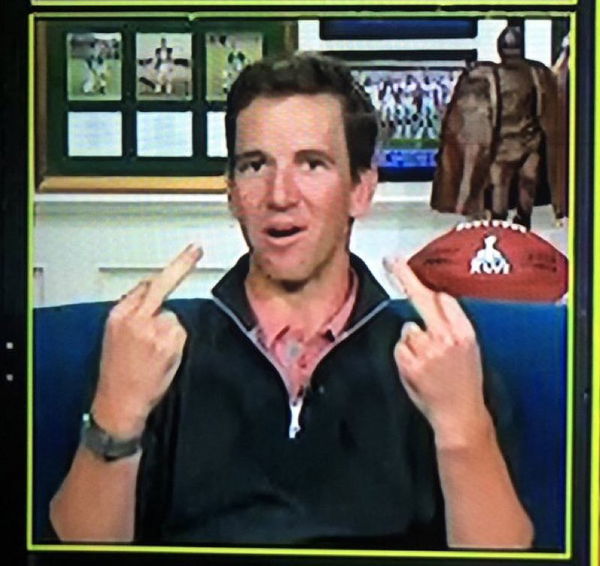 ---
---
The Manningcast is starting to become a charm of football and part of it is because of Eli Manning. The other part is, of course, his elder brother Peyton Manning, who encourages him to do the whackiest things.
ADVERTISEMENT
Article continues below this ad
The Manning brothers are certainly trying to push the boundaries as during their Monday Night Football live broadcast, Eli didn't just flip the bird on live television, but pulled off a 'double bird'.
ADVERTISEMENT
Article continues below this ad
Eli Manning flips a 'Double Bird' on Manningcast
During the Dallas Cowboys vs Philadelphia Eagles game, Eli Manning was narrating tales of his days with the Giants to the guest of the show Chris Long. He said that as a rival quarterback when he used to visit the Lincoln Financial Field in Philadelphia, kids as old as nine used to flip him the bird; the 'double bird'.
At first Eli lifted two fists to mimic the gesture, but when Peyton encouraged him to "do it" on screen, Eli flipped off the double bird without thinking much about the repercussions, all while asking, "I would give the bird — I don't know, can we do that? I'm sure you can blur that out, right?"
The apology that followed
ADVERTISEMENT
Article continues below this ad
However, after a short commercial break, the two brothers were seen apologizing on screen for their instinctive act, live on national television. As Eli said, "Alright, alright, sorry. Earlier, I gave the double bird. I guess that's frowned upon, so I apologize if I offended anybody. I thought — that a nine-year-old did to me, I thought I could do it back. Chris, I blame you for that." Followed by Peyton, who said, "My fault too. I encouraged you to do it, my fault. We apologize."
ADVERTISEMENT
Article continues below this ad
The Manningcast tries to deliver a laid-back and authentic Monday Night Football experience, but the two rookie broadcasters certainly forget the boundaries they should be in while being live on TV. And this makes them produce some hilarious moments on screen for people to ponder upon. This is why Eli's double bird flip turned into a meme overnight.