WATCH: Aaron Jones' Son Tries to Look Like His Father In Adorable Video
Published 10/28/2021, 11:03 AM EDT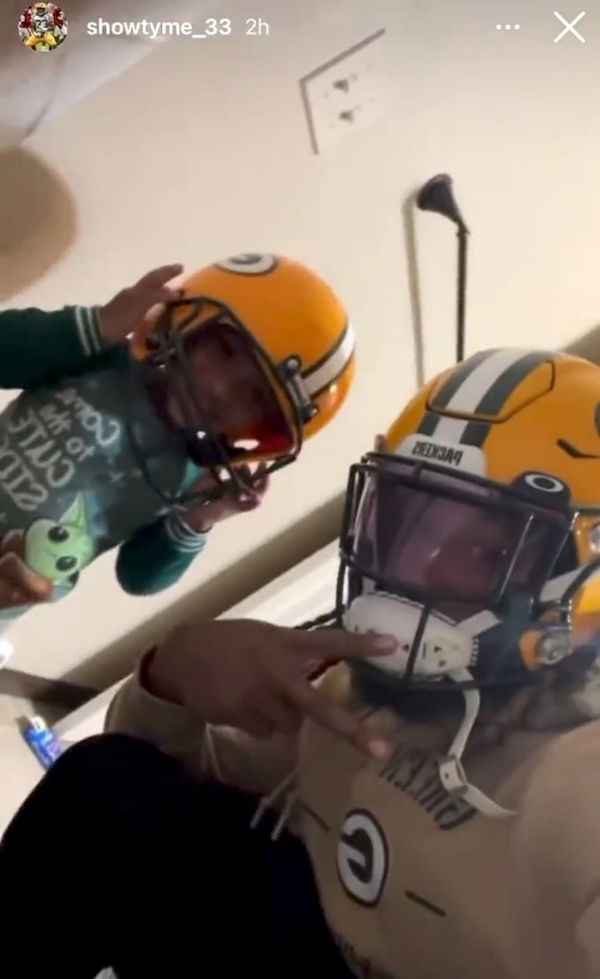 ---
---
Aaron Jones grew up in a close-knit family. The Green Bay Packers running back grew up in a military household and recently described his home as "Faith, Family, and Dedication". He was also in the news recently for altering his jersey to hold his father's ashes in them.
ADVERTISEMENT
Article continues below this ad
His actions throughout his career have represented how important his family is to him. Last night saw the Greenbay RB take to Instagram to share a wholesome video of his son, which has instantly gone viral on social media.
ADVERTISEMENT
Article continues below this ad
Aaron Jones' son tries to emulate his father
For a kid that has probably grown up watching his father more on TV than at home, watching his father without a helmet might look odd. This is exactly what might have happened with Aaron Jones' cute son. Last night saw Aaron Jones share with the world how his son follows him around the home forces him to wear his Packers helmets at home so that they both look the same.
In the video, as soon as Jones wears the helmet, his son's eyes light up and he gives out a gleeful smile. In case Jones denies his son's command, he throws a fit." He'll have a fit if I don't wear it with him," he said on Instagram. Aaron Jones better not deny wearing that helmet for his son. His smile is too precious!
Alright Aaron Jones' son following him around the house making sure he wears his Packers helmet so they match may be one of the cutest things you see.

The look on Jr's face when he puts it on is priceless 🥺

(Via @Showtyme_33 IG) pic.twitter.com/oYIzt0efMy

— George Balekji (@GeorgeBalekji) October 27, 2021
THROWBACK! When Jones brought a PS4 with him to the hospital while waiting for his son's delivery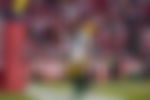 Back in July 2020, Crystal Molina, Jones' long-term girlfriend, in a now-deleted tweet shared a hilarious photo of the 25-year-old sprinting back into the delivery room after their son's birth in April on Twitter. Jones is seated in a medical chair in front of a monitor, connected up and playing PlayStation 4 online with several of his buddies in the photograph.
ADVERTISEMENT
Article continues below this ad
While everyone was amused by Jones' actions, the bigger mystery was how he set up his console in the hospital. Jones cleared all doubts by explaining how he carried his own monitor and system into the hospital and connected to PlayStation Network via his mobile phone's hotspot rather than the hospital's Wi-Fi.
😂😂 i had to bring the monitor too 💀

— Aaron Jones 3️⃣3️⃣ (@Showtyme_33) July 3, 2020
ADVERTISEMENT
Article continues below this ad
Speechless.