WATCH: Green Bay Packers Hire/Fire 'The Office' Star Kevin Malone at the Lambeau Field for the Bye Week
Published 12/03/2021, 12:37 PM EST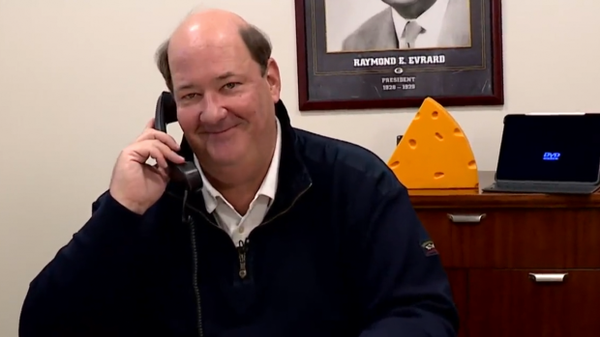 Ever wondered what Brian Baumgartner (aka. Kevin Malone) did after his hit show 'The Office' ended? Well, according to him, he has "tended to be a typecast." However, the Green Bay Packers decided to hire him. He mimics an office sequence named 'The Bye Week' in the Lambeau Field, as the rest of the front office has been enjoying their time off.
The Office star in his new workplace is seen in his same old character, playing mischiefs all around the place and answering questions in an obtuse manner- just like a typical Kevin Malone way. In the hilarious The Office-like sequence, Baumgartner can be is seen answering phone calls, giving tours, and reviewing game footage.
ADVERTISEMENT
Article continues below this ad
The Green Bay Packers hire Brian Baumgartner
In an attempt to explain to the visitors how they remove the snow off the field, Brian hilariously said, "Well what they do is fly helicopters above the stadium, and they drop boiling water onto the snow, and that melts it pretty well." 
Furthermore, Brian recreates one of the most iconic jokes of the show, 'That's what she said.' "You wanna know how long it takes to get season tickets? Why is it so hard?" said he, looking into the camera with a smirk, knowing too well the viewers know the answer. 
'The Office' accountant certainly has some very unknown facts and an 'encyclopedaic knowledge' of the Lambeau Field. During one of his stadium tours, he exclaims, pointing down at the stands that, "on this spot right here in Lambeau Field Aaron Rodgers was born."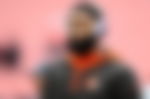 Brian Baumgartner has an encyclopedaic knowledge about Lambeau Field
ADVERTISEMENT
Article continues below this ad
In an attempt to impress his visitors, Brian also tried to tell them an unknown fact about the Lambeau Stadium. He said, "The Lambeau Leap invented in 1919 by Curly Lambeau. The stadium itself is named after that move." Noticeably, mixing up the facts. Safety LeRoy Butler invented the Lambeau Leap after scoring against the Los Angeles Raiders in 1993. And the celebratory move itself was named after the stadium.
ADVERTISEMENT
Article continues below this ad
However, by the end of 'The Bye Week' Brian Baumgartner was fired by the Green Bay Packers office executive. "Unfortunately, we had to let Mr. Baumgartner go," the Packers officer said. The video is just so perfect that watching it would tempt you to re-watch 'The Office' once again.