WATCH: Insane Drone Video Of Tom Brady Acing The Golf Course; Mahomes Retorts- "Wasted It A Week Early"
Published 05/25/2022, 12:46 PM EDT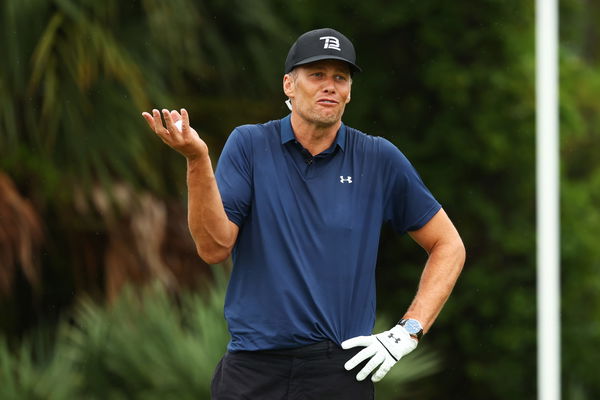 Tom Brady and Aaron Rodgers will be facing Josh Allen and Patrick Mahomes in a charity Golf match next week. All of them have already started practicing for the big event. These four are arguably the best four quarterbacks in the league, and many people will tune in to watch them.
All four of them recently practiced alongside each other, where Brady came up with many jokes. Tom is the greatest football player of all time, but this new video shows him in a completely new light. Acing a golf shot! With a drone shooting the video!
ADVERTISEMENT
Article continues below this ad
Brady converted an excellent shot from quite a distance, and it was special. Brady's excellent shot ahead of the charity sporting event was all over social media within minutes. And his opponents took notice.
Patrick Mahomes, who will be facing Brady next week, came up with a funny response. After seeing the video of Tom hitting that sensational shot, he responded with his tweet and said, "Not going to lie pretty impressive… too bad you wasted it a week early." Josh Allen also responded with a GIF, as Brady's opponents of next week are already taking their shots at him.
Can Tom Brady and Rodgers get the better of their counterparts in 'The Match'?
NFL Fans as well as some Golf fans are excited to watch their favorite quarterbacks battle it out on the Golf Course. Last year, Brady faced Aaron Rodgers. But this time the two ace QBs team up.
ADVERTISEMENT
Article continues below this ad
Tom Brady's new video shows the man is really on it. And once Brady puts his mind to something, we have generally seen him go to extreme lengths to get it done.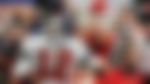 When it comes to the prediction of the golf game between them, it will be easy to say that Tom Brady and Aaron Rodgers will be the early favorites to win it on the golf course.  Even though Patrick Mahomes is a good golf player, and Josh Allen is also an excellent athlete in various sports, it will be hard to root for them against Brady and Rodgers.
ADVERTISEMENT
Article continues below this ad
Nevertheless, everyone will surely tune in to watch the contest. Moreover, when all four of them are involved at the same place, the fans can expect quality banter between them.
Watch This Story: Colin Kaepernick's Super Bowl Rival, Bengals Legend & Browns Best Ever Amongst The 5 Most Underrated NFL Quarterbacks Of All time