WATCH: Josh Allen Gets First Touchdown of Playoffs With Unconventional Throw Under Pressure
Published 01/09/2021, 2:22 PM EST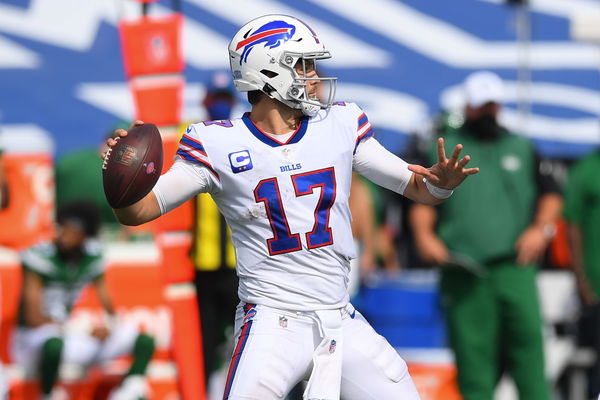 ---
---
The NFL Playoffs are a go! And Buffalo Bills' quarterback Josh Allen has set the ball rolling with a crazy touchdown pass against the Indianapolis Colts.
ADVERTISEMENT
Article continues below this ad
The QB drafted from Wyoming has set the league alight with his performances all through the regular season. And it looks like it's going to be more of the same from Josh Allen in the Playoffs.
Crazy run play turns into a passing touchdown
ADVERTISEMENT
Article continues below this ad
Lining up at 2nd and Goal at the Colts' 3-yard-line, Allen took a snap which was originally meant to be a run play. The dual-threat quarterback, who has 8 rushing touchdowns to his name this season, looked set to run the ball into the endzone. But after failing to find a hole in the Colts D-line, Allen soon realized he was in trouble.
Charged down by the Colts defense, Allen was soon under pressure of being sacked. This meant trouble for him as he had already been taken down earlier in the first quarter of the game.
But using his presence of mind, Allen threw it to tight end Dawson Knox who was wide open at the Colts endzone. And the pass was a sight to behold.
His incredible pass to Knox put the Buffalo Bills up 7-3 against the Colts in the Wild Card Round game. The Bills, who last won a playoff game 25 years ago, are now in the hot seat to make it to the Divisional Round.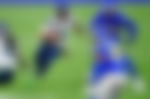 A 2020 to remember for Josh Allen
Into his 3rd year in the NFL, Josh Allen has really come to life. With over 4,500+ passing yards and 38 passing touchdowns, Allen has firmly cemented his position as one of the league's elite quarterbacks. What's more, Allen also has 8 rushing touchdowns to his name for the 2020 season.
Allen, who was dismissed by many due to his struggles with passing the football, has silenced his critics with his performances this season. In fact, the one particular avenue that Allen seems to have improved is his passing.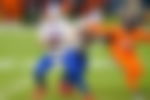 The quarterback is 4th in the league for most passing yards under pressure (1,205). His pass accuracy is also something that has gone up since last season.
ADVERTISEMENT
Article continues below this ad
With a 62% pass completion rate, the quarterback now ranks 6th in the league in this aspect. A big step up from 53% he recorded in 2019.
Josh Allen is just the man the Bills needed to make a mark in the big stage. And with the Playoffs rolling, one can expect much more from the Bills quarterback.
ADVERTISEMENT
Article continues below this ad