WATCH: Lamar Jackson Makes a Mockery of College Defenses with Louisville Cardinals
Published 05/23/2020, 5:03 AM EDT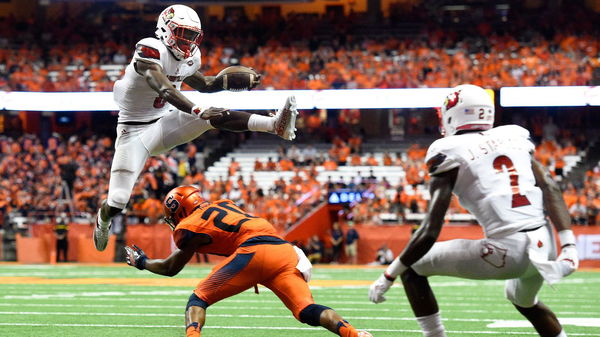 ---
---
Lamar Jackson has been making a mockery of opposing defenses in the NFL. However, that has been the case ever since his college days. In 3 seasons at Louisville Cardinals, Jackson passed for a whopping 69 touchdowns. He was no slouch in rushing too with 50 touchdowns. 
ADVERTISEMENT
Article continues below this ad
At the 2018 NFL Combine, he refused to participate in the 40-yard dash. Jackson emphatically stated, "Whoever likes me at quarterback, that's where I'm going. That's strictly my position."
Baltimore Ravens leaped at the opportunity and made Jackson the final draft pick of the first round in 2018. And one can see why they did this. They had a quarterback who was comfortable with rushing too thus providing them an edge in offense. 
ADVERTISEMENT
Article continues below this ad
Lamar Jackson toys with opposition defenses in college
To trick defenses and keep him from excessive pressure, Jackson must be in sync with his running back. This is seen in the first touchdown where the quarterback seemingly hands the ball to his running back before setting off to the end zone.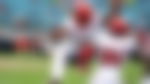 Here he is met with opposition from safety but impressively leaps over a tackle to get a rushing touchdown. He repeats the move again in another game, but here the defense recovers and tracks back. However, Jackson uses their speed against them and deftly spins out of their way and enters the end zone untouched  
In the 3rd clip, we see him adopt the same tried and tested strategy. Here, however, the tackle, defensive end, and outside linebacker are awake to it and Jackson impressively skips around them. Aided by his offensive teammates who act as screens he calmly slows down in the final 10 and walks into the end zone. 
Next, we get to watch him zig and zag across the opening field as he completes a 61-yard rushing touchdown. Here the commentator remarked, "a scintillating run from Lamar Jackson."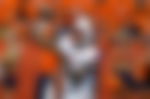 We get to see his primary skill which is his throwing too. 
In a game at Papa John's Cathedral Stadium, Jackson makes the best of his screens. He hurls the football downfield to his wide receiver for a touchdown. 
And finally, the video shows us the quarterback's ability to pick up teammates in the end zone. Here, he calmly runs to the edge of the field and tosses the ball to a teammate for a touchdown. Fans get the impression that he is assured despite the pressure of a sack. 
ADVERTISEMENT
Article continues below this ad
At 23, he has years ahead of him in the NFL. Baltimore Ravens will hope to see him build on his impressive showings at Louisville and his first 2 seasons at M&T Bank Stadium. 
Observers know Jackson is skilled at both passing and rushing, however, what do you think is his main skill? 
ADVERTISEMENT
Article continues below this ad
WATCH: The Pick 6 Machine of Green Bay Packers Charles Woodson