WATCH: Miami Dolphins Running Back Ronnie Brown Tears Through New England Patriots
Published 05/22/2020, 12:19 PM EDT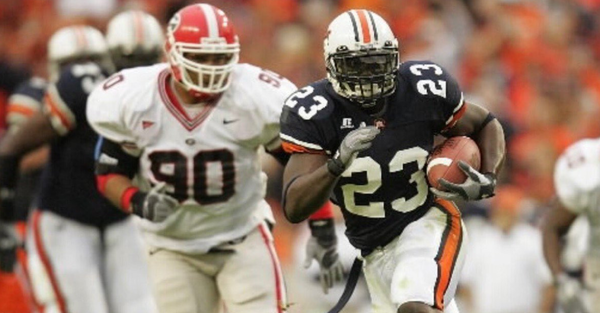 ---
---
Ronnie Brown retired from the NFL back in 2014, but he leaves behind a long and successful career. The running back joined the Miami Dolphins as the 2nd overall pick of the 2005 NFL draft. Since then, he became an integral part of the squad and a formidable player in his own right.
ADVERTISEMENT
Article continues below this ad
In essence, Brown featured heavily in the Dolphins famous move, the Wildcat Offense. During a game against the New England Patriots, Brown and the Miami Dolphins implemented this tactic. Suffice to say, the Patriots new knew what hit them as Ronnie ran riot over their defence.
ADVERTISEMENT
Article continues below this ad
ADVERTISEMENT
Article continues below this ad
The Wildcat Offense – Miami Dolphins' secret weapon
Normally, the football is snapped back to the quarterback, who then dictates the play. However, the famous Miami Dolphins Wildcat Offense tweaks that play to its own advantage. In this scenario, the ball is snapped directly to a player of another position lined up at the quarterback position.
On most occasions, the running back is employed in that position, though others can fill that role just as easily. The Wildcat Offense largely works for teams that have an unbalanced offensive line. So, it looks to the defense like a sweep behind zone blocking.
ADVERTISEMENT
Article continues below this ad
A player then moves across the formation prior to the snap and triggers everything. However, once this player crosses the position of the running back who will receive the snap, the play develops unlike the sweep. Since then, Brown rushed the ball at least 127 times for 557 yards scoring eight touchdowns.
Suffice to say, the Dolphins won that game handily and Brown established himself within the ranks. He stuck around until August 2011 when he signed for the Philadelphia Eagles. After another two years, he donned the San Diego Chargers colors before he got bounced to the Houston Texans for a couple of months. Finally, he returned to the Chargers and ended his career there.