Watch: Minnesota Vikings QB Kirk Cousins' Best Plays from 2019
Published 06/19/2020, 1:11 PM EDT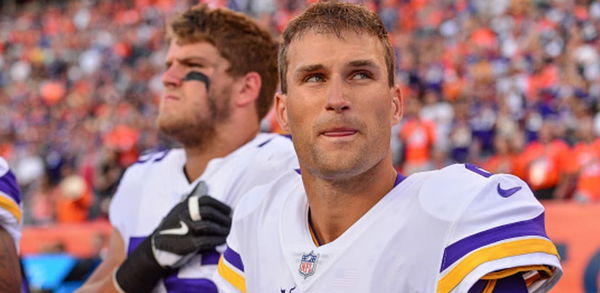 Minnesota Vikings' quarterback, Kirk Cousins has come a long way since he was picked 102nd overall in the 2012 NFL Draft. In 8 seasons since, Cousins has 24,107 passing yards and 155 passing touchdowns. Additionally, he was recently ranked among the top-10 deep passers in the league in 2019.
Throwback to Cousins' best throws from 2019
At end of the 11th week of the 2019 season, Kirk had the highest number of 50+ yard passes among all quarterbacks in the league. He was followed by the Seattle Seahawks', Russell Wilson. Even wide receiver Stefon Diggs said, "He is playing lights out and doing a great job", praising Cousins. He added that the media needs to give more credit to the quarterback – "He's doing everything that he can".
ADVERTISEMENT
Article continues below this ad
From 2015 till 2018, Cousins threw an incredible 4,000+ yards each season. His stellar performance over the years, among other things, is what resulted in a massive $66 million contract extension for two years.
Despite having done so well, Cousins is still blamed for the Viking's failures during his tenure. Minnesota hasn't had a lot of stability or consistency with its quarterbacks since its very first season. Most have had only one or two good seasons, and Cousins has already proven to be better.
What must be understood is that it isn't easy to find a franchise quarterback. The Vikings seem to have found a good fit in Kirk Cousins and it's now important for them to build a stronger offense around him, especially with the departure of Diggs from the team.
Kirk Cousins in other news
Cousins took to Instagram to express his sorrow over George Floyd's death in Minneapolis, home of the Vikings.
ADVERTISEMENT
Article continues below this ad
While talking to Fox earlier this month, Cousins said, "I just want to send a word of encouragement and share where I'm getting my hope, and that's found in my faith and in the word of God… I know that in life we're going to have tough times. And I don't know what the future holds, but as the old saying goes, we know who holds the future and that God is in control."
ADVERTISEMENT
Article continues below this ad
He concluded by asking everyone to be hopeful and expectant during this time.
Despite Cousins' numbers falling in the last season (which might have to do with Gary Kubiak and Kevin Stefanski's new offensive scheme since 2019), he is still a very vital aspect to the Vikings' journey to a Super Bowl.