WATCH: NFL Referees Make Another Controversial Call After Alvin Kamara's Towel Gets Robbed
Published 12/28/2021, 1:36 PM EST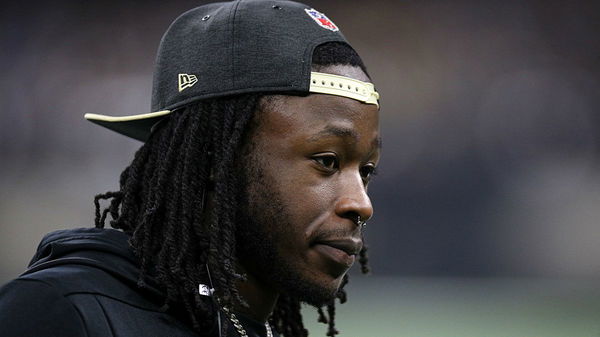 ---
---
The New Orleans Saints had a Week 16 matchup against the Miami Dolphins, which didn't go well for Alvin Kamara. The Saints were distressed with a depleted squad as they headed to the matchup. Many of their players did not make it on the Monday night after they were listed to the COVID reserve. But Sean Payton did not want to go down without putting on a fair fight.
ADVERTISEMENT
Article continues below this ad
However, the running back, Alvin Kamara, took that phrase too literally. He was seen caught up in a fight with the Dolphins defensive end Christian Wilkins. The scene got a bit chippy when the special team was taking over the play for a punt, and Kamara was seen hitting the DE from the back.
ADVERTISEMENT
Article continues below this ad
Although it was a confusing scene for the viewers and the commentators since they had no idea why that happened, the broadcasters figured it out soon enough. The ESPN broadcast displayed how the Dolphins' defensive end stole Alvin Kamara's towel as they were going off the field.
Alvin Kamara was baited by Christian Wilkins for a penalty
The jab thrown by Kamara was just a response to the mischief carried by his opponent. And in order to maintain discipline in the field, the official flagged the 26-year-old running back for unsportsmanlike conduct. However, Christian Wilkins got away with it. Furthermore, that was not the only combat between the two.
ADVERTISEMENT
Article continues below this ad
Earlier in the game, the two were seen tussling out when Wilkins punched the ball from the hands Kamara when the play ended. And at the end, when the two were seen in dispute yet again, Wilkins got what he wanted as the star running back was flagged for 15-yards.
ADVERTISEMENT
Article continues below this ad
The Dolphins emerged out to be the victorious side, in the end, taking forward their winning streak to seven games. On the other hand, the Saints were shut to just three points throughout the game. Taking away the win, the Dolphins became the first team in the NFL to record a seven-game losing streak and a seven-game winning streak in the same season.