WATCH: Pittsburgh Steelers' Running Back Surprises Mom With A New House And Her Reaction is Priceless
Published 07/05/2020, 5:30 PM EDT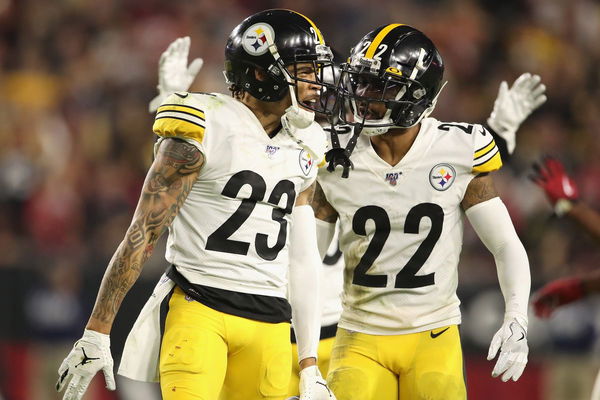 ---
---
It's Independence weekend in America right now and families across the country are spending time with their loved ones. The last couple of months have been rough for American citizens. The ongoing coronavirus plague and civil unrest has caused a lot of chaos to local residents. Amidst all this negativity, Pittsburgh Steelers RB James Conner brings us some heartwarming news.
ADVERTISEMENT
Article continues below this ad
Pittsburgh Steelers star surprises mom with a brand new house!
The talented running back recently gifted his mom, Kelly Bibbs, a brand new home. He captured this event on video. Bibbs was left teary-eyed at this gesture.
ADVERTISEMENT
Article continues below this ad
As the video will clearly depict, she definitely did not see this coming and was left speechless when Conner finally broke the surprise. The Conner family then embraced each other in a nice big family hug which was extremely heartwarming to witness.
Family always comes first for Steelers' RB James Conner
Conner is known for his philanthropic activities. Last month, he gifted his dad a brand new truck. "Can't nobody tell me nothing now!" Conner's dad exclaimed. Gratitude is the best attitude. At times like this, Pittsburgh's James Conner is just showing us what a fine young man he's grown up to be!
What's in store for Mike Tomlin's Pittsburgh Steelers this season?
ADVERTISEMENT
Article continues below this ad
Conner signed for the Steelers in 2017. He was a third-round draft pick and had a decent rookie year with the Steelers. However, he struggled with injuries over the last two years. Conner rushed for 464 yards and registered three touchdowns in 2019. He will look to add to that tally this year.
ADVERTISEMENT
Article continues below this ad
He had multiple shoulder injuries in 2019. Despite these setbacks, Conner is hoping to make a strong return with the Steelers this year. The Steelers have missed the playoffs for the last two seasons. They will hope to change the record this year which could be their last with star quarterback Ben Roethlisberger.
It must be noted that Mike Tomlin has gone 13 years without registering a losing season. If he maintains that this year, he will equal legendary coach Ben Schottenheimer for the longest-stretch of non-losing seasons in NFL history. Ben Schottenheimer achieved that record while coaching Cleveland Browns and Kansas City Chiefs between 1984 and 1997.