WATCH: Tampa Bay Buccaneers' Pro Bowler Undergoes an Intense Training Routine Ahead of NFL Season
Published 07/06/2020, 7:30 PM EDT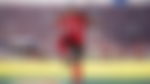 ---
---
The Tampa Bay Buccaneers are deadly serious about challenging for the NFC South Division and the Super Bowl. First and foremost, the franchise added more muscle when they roped in Tom Brady from the New England Patriots. Now, a number of Bucs players like Mike Evans, are stepping up their game in order to link up well with Brady.
ADVERTISEMENT
Article continues below this ad
With a player of Tom Brady's calibre, the Pro Bowl wide receiver is eager to prove himself as one the top pass-catchers. With around 1,000 receiving yards in 6 NFL seasons, Evans is definitely Hall of Fame material.
Mike Evans is determined to prove his mettle to the Tampa Bay Buccaneers
ADVERTISEMENT
Article continues below this ad
Recently, the Buccaneers posted a video of Evans working very hard to build up his strength and improve his skills. Soon enough, it caught the attention of Tom Brady himself, who acknowledged his new teammate.
The Bucs wide receiver is aiming to become the only receiver in NFL history to reach seven-straight 1,000-yard seasons. Obviously, Mike Evans has worked extremely hard to get to this point. However, he has proven that he is an all-time great player just entering the prime of his career. So, it isn't surprising if he does get a nod for the Hall of Fame.
Aside from Evans, all other Tampa Bay players will be hard at work to raise their game. Arguably speaking, this is the strongest that the Buccaneers have ever been, and with Tom Brady on the squad, this is their best shot.
However, the journey will not be easy, as there are several other NFL teams who are in with a shout. Even Brady's former team, the New England Patriots, will not want to be trifled with. However, the Buccaneers will be willing to go up against the big boys with their new arsenal.